Abraham and Reigny Eliminated from Nigerian Idol 2023 Top 8
Abraham and Reigny Eliminated from Nigerian Idol 2023 Top 8
Abraham and Reigny were eliminated from Nigerian Idol Season 8 due to receiving the lowest number of votes from the audience
Last night's Live Show commenced with IK introducing viewers to an anticipated evening. Following some light-hearted conversation and a photo session with Simi, he proceeded to announce the commencement of the first elimination of the night.
The atmosphere dimmed as IK swiftly declared Abraham's elimination. A dejected Abraham was then invited onstage to express his emotions. His response of "It is well" indicated his resilient spirit in the face of the news.
Immediately after the elimination, Quest took the stage with a performance of Tems' "Damages." The judges unanimously agreed that Quest faced difficulties with the song's verses while excelling in the chorus. D'banj suggested that her struggles might be attributed to her choice of song.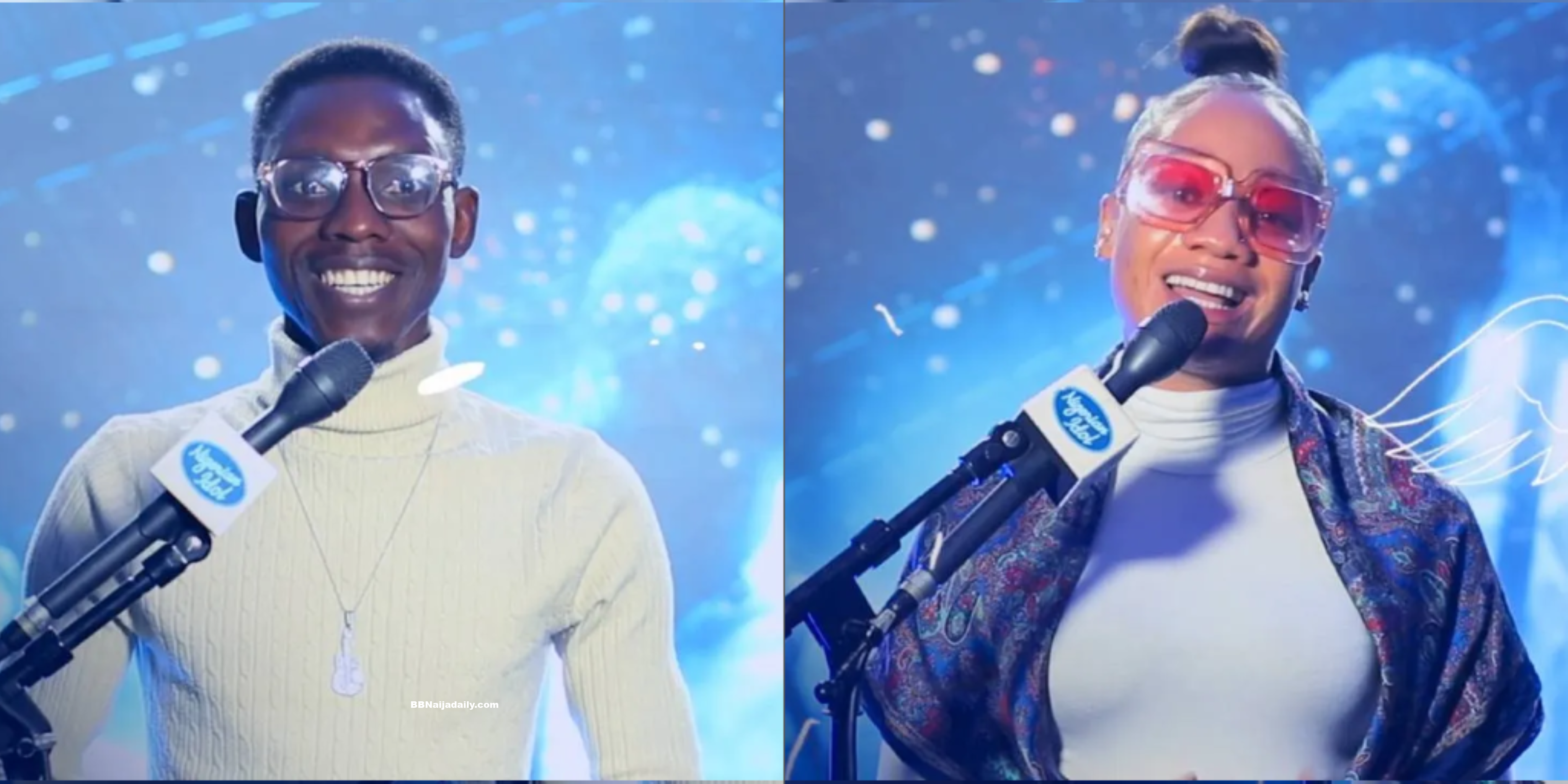 Savy Henry performs "It's Plenty" by Burna Boy
Next up on stage was Savy Henry who gave a performance of 'It's Plenty' by Burna Boy. His performance was critiqued by the Judges who felt he did not give his best.
Precious Mac performs "Overload" by Mavin all-stars
Precious Mac came up next with a performance of 'Overload' by the Mavin all-stars. While performing, she struggled with her ear device and this was noticed by the Judges who pointed out that her struggle affected her performance and advised her to find a way not to be distracted by such if it happens in the future.
Chisom performs "Peace Be Unto You" by Asake
Chisom was then invited on stage to perform and he pleased everyone with his performance of 'Peace Be Unto You' by Asake. He got the first standing ovation from the Judges for the Season. Speaking about his performance, D'banj acknowledged Chisom for his ability as an entertainer and his stage presence.
Goodness performs "Feelings" by Ladipoe
Off the heels of Chisom's fury performance was Goodness whose performance of 'Feelings' by Ladipoe. Surpassing expectations, Goodness impressed everyone, including Simi, who admitted to having preconceived notions based on the song choice but was pleasantly surprised by the outstanding performance.
While the night went on, IK made a startling revelation that there was going to be a Top 8 and not a Top 9. This meant another Elimination was looming. A few minutes after his announcement, Reigny was announced as the second Contestant to be Eliminated.
When asked about how she felt, Reigny mentioned her mind was hazy about all that was going on.
Right after the Elimination, IK approached the Judges and questioned them each about their comments towards Constance's performance the previous week. Simi and D'banj responded that their comments were more about her connection to the song and not her singing skill.
Constance performs "Alone" by Burnaboy
Then came Constance on stage with her performance of 'Alone' by Burnaboy. Her performance was commended by the Judges who felt he did absolutely well with her performance.
Ose Daniel performs "Bandana" by Fireboy DML
Another afrobeat bop was performed next as Ose Daniel serenaded the audience with his rendition of 'Bandana' by Fireboy DML. His performance was praised by the Judges and when asked by IK about his future in music, Ose Daniel responded that he would like to follow in the path of Afrobeats.
Victory performs "As it Was" by Harry Styles
Victory was commended by his coach for his larger-than-life personality both on and off the stage and as expected, Victor delivered a captivating rendition of Harry Styles' 'As It Was.' D'banj found his performance entertaining and effortless, while Simi praised his exceptional control over his skills.
Concluding the show, IK Osakioduwa expressed gratitude to the judges and the audience for their unwavering support. He encouraged viewers and fans of the show to continue voting and saving their favourite Contestants.
It was indeed a night of shocking Eliminations and exciting performances and we can't wait for the next Live Show.