Team Braids Wins BBNaija 2021 Darling Hair Task (Week 4)
Darling gave the Housemates a fresh brief this evening. This is what today's Darling task is all about. Team Braids which are Yousef, Michael, Liquorose, JMK and Queen emerged winner of the task. Congratulations to them.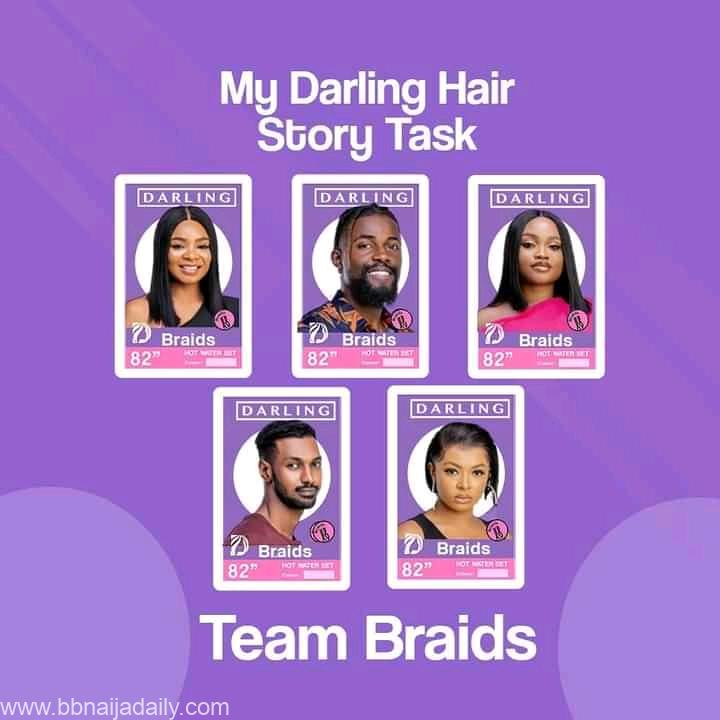 The Brief
Dear Housemates,
Welcome to your Darling "My Hair Story" task!
Over the last few years, Darling has successfully established herself as a trendy brand helping African women find their beautiful with amazing looking hair.
Your task today is to create unique Hair stories using darling hairstyles to portray the Black Girl as Bold, Daring, Unstoppable and Beautiful, while also showing how a queen's magic is incomplete without a Darling Hair on.
To carry out this task, you will be required to play in teams. The team names for today are
Team Crochet
Team Braids
Team Empress
Team Natural.
Each group must consist of the following personalities:
The Models – All members of each team
The Storyteller – one female member of each team
The Stylists – All the gentlemen in each team.
To determine your teammates for today, male housemates must proceed to pick one name card each from the box labelled "Male", while the female housemates will pick from the box labelled "Female". Housemates who pick identical team names will form team members for today.
The task has also been broken down into two stages: The first stage is called Find Your Beautiful which will happen in the salon. You are to create a unique hair story using Darling hairstyles. Your hair story must show how Darling Hair gives the black queen confidence to be unstoppable.
As a team, you will also be required to rehearse a fashion dance routine with the Darling Black Girl Magic theme song, which will be played for you intermittently after you have finished styling your hair.
The second part will be the presentation stage in the arena but more on that later.
For now, you may proceed to the storeroom to collect your customised Darling Boxes containing your outfits and the tools you will need for the task. There is a separate box containing various wigs and attachments. Each team may choose what to use based on their team's inspiration. You may also utilise the items in the salon to creatively execute this task.
You have 90 minutes to style your hair in the salon and 30 minutes to rehearse your dance routine. The song will come on after the 90 minutes allocated for your hair styling have elapsed.
Every member of each team is expected to be actively involved in this activity, as it determines the outcome of the overall task.
Yours truly,
Big Brother.
It's Darling time!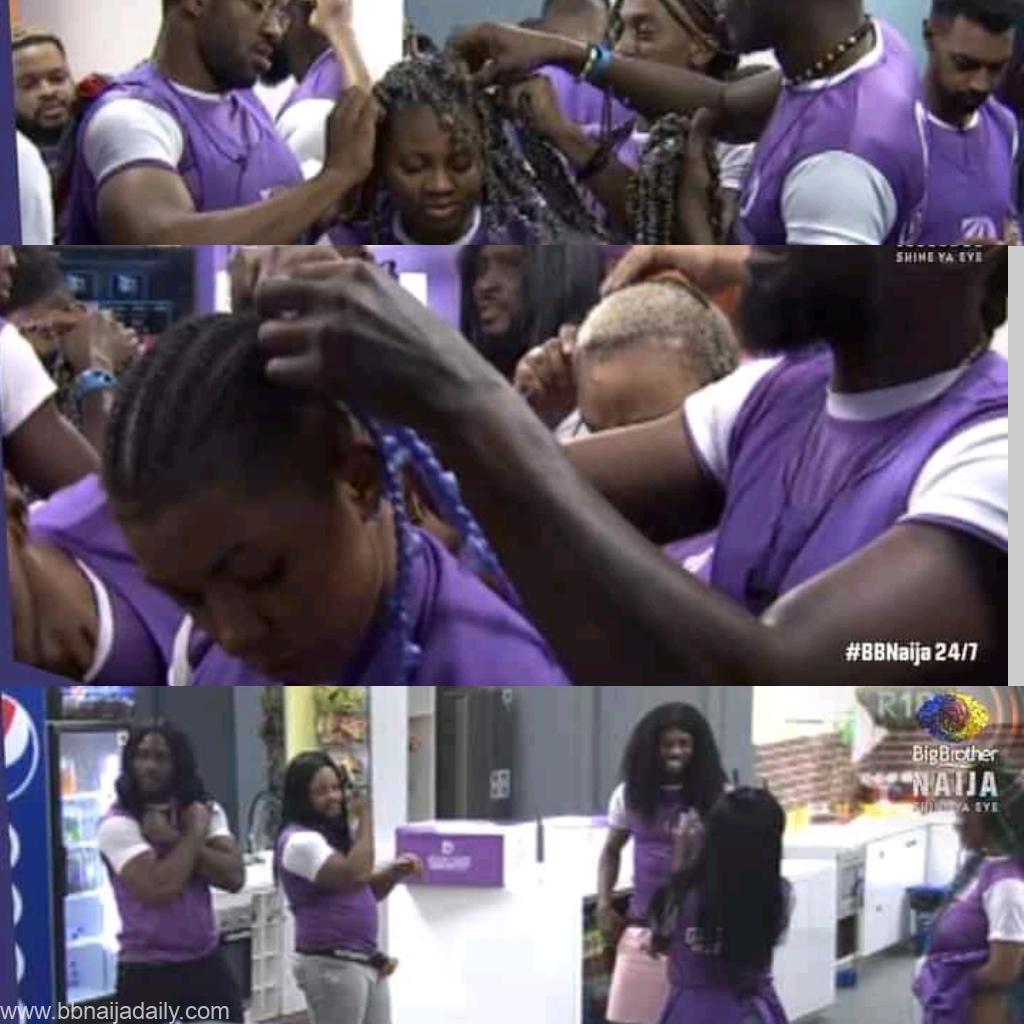 After dividing into teams and gearing up, the Housemates are set to prepare for their task. They were given 90 minutes to get their hairstyles and unique stories ready as they wait for their second brief of the night which touches on the presentation.