Pere and Angel will compete for a spot in the BBNaija Finale in the most heated game ever featured in the Shine Ya Eye game tonight.
Pere and Angel were brought to the White Room by tonight's twist, where Big Brother introduced the Double Jeopardy game, which will select the season's fifth finalist. What a turn of events, huh?
Trucks and screwdrivers is a game.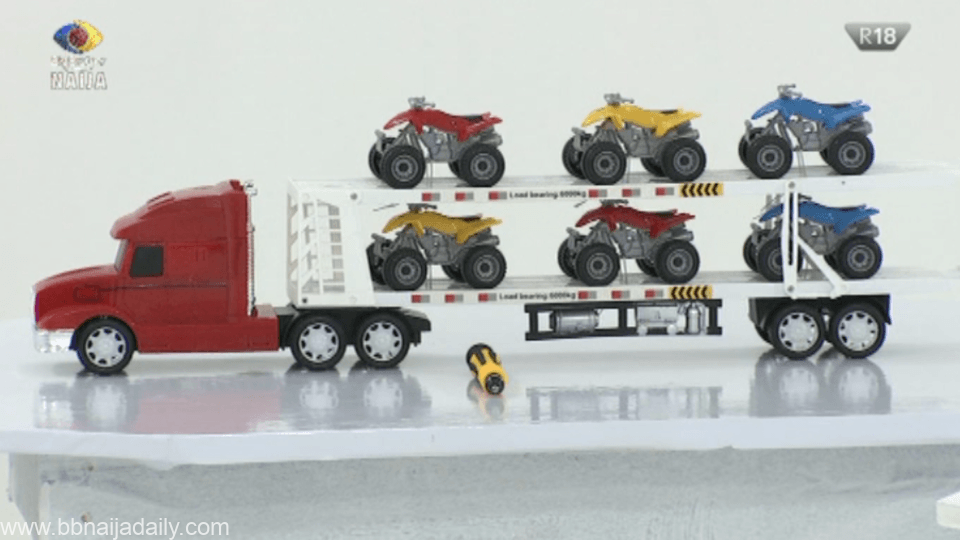 As determined by Big Brother, there can only be one winner of this game, and the winner returns to the House as a finalist, competing for the Big Brother Naija season 6 grand prize.
Losing means immediate Eviction and the Housemate gets to go home as the one who almost made it to the Finale. Placed in front of them were two identical toys; also, in front of them was a single green bulb, with the bulb switched on. The bulb was switched off and the next time they get to see the bulb switched on, what they have to do is unscrew and disassemble their toy trucks. They are only allowed to work as long as the green bulb is on; if the bulb goes off and they continue working, they may be penalised.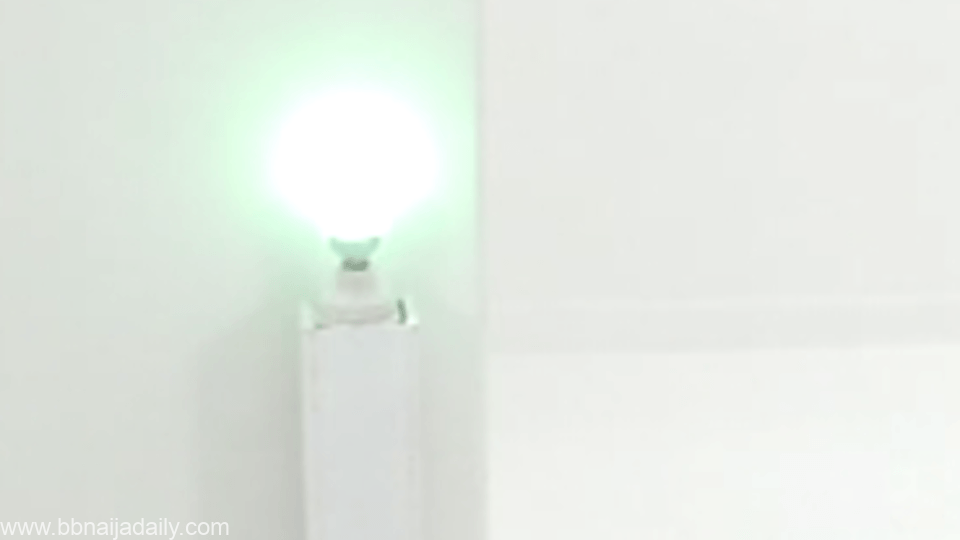 In all, there should be 23 screws and 54 body parts after they've each disassembled the truck.
Also, breaking the toy parts may attract a penalty as well and the penalties may be as intense as losing out on the game completely.
The first Housemate to finish the assignment and announce that they've finished it wins and secures a spot in the Finale.
How the game went
After an intense Double Jeopardy Game, Angel and Pere were both told they would compete in Big Brother Naija's Finale Week!
It's official – Angel and Pere will both be among the Final Shine Ya Eye. After their Fake Eviction last night, Pere and Angel have been cooped up in the White Room, waiting for their turn to play the Double Jeopardy Game: trying to disassemble a toy truck into all its component pieces in the shortest time possible.
When the two were given the green light to start taking apart the trucks, they were in a decidedly-relaxed mode, relaxing and recounting their time in the House – Pere barely sounded conscious. When the time came – and after a few choice oaths – they jumped to the job at hand. The tiny screws proved to be something of an irritation for both of them, but Angel seemed to take an early lead in the game, despite taking a moment to say, "damn, bro! Biggie, seriously!" A few minutes later, Pere seemed to be quite far behind, and he seemed to realise this when he stole a few glances at Angel's progress, but he managed to catch up quite well.
This game was intense – aided in no small part by the dramatic music supplied to heighten the mood. Angel declared she was done moments before Pere, but both of them felt they might be penalised for breaking some of the components, so there wasn't much joy at the end, because it was unclear how that would affect the outcome. So after all of that, we still weren't treated to a clear winner. Angel and Pere handled it about as well as they could, giving each other a hug and hoping for the best.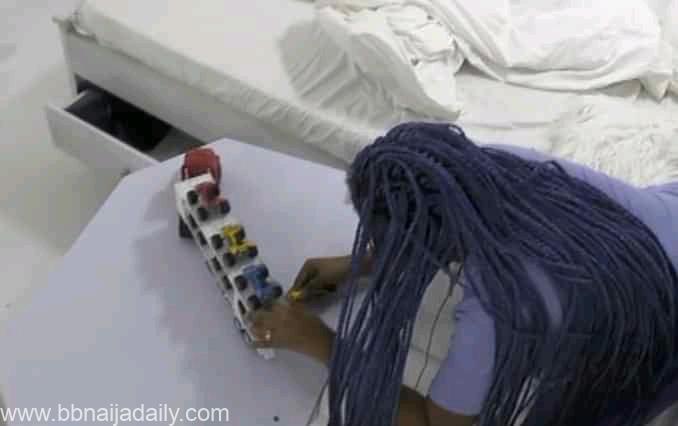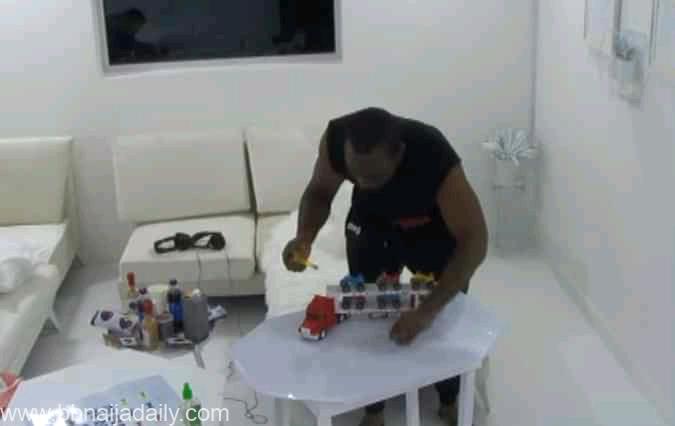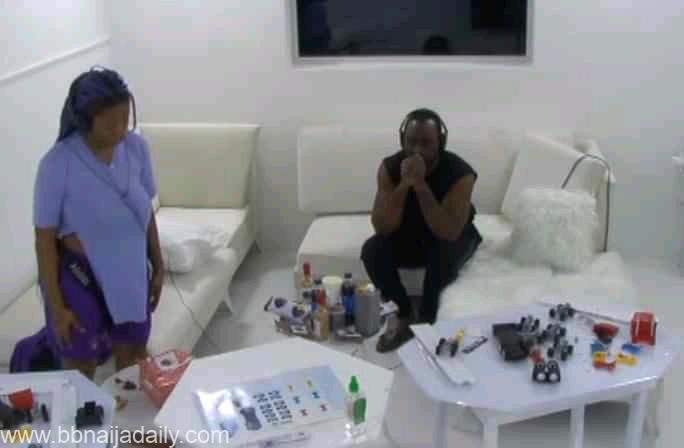 When Biggie spoke to the two of them, both of them admitted to not being as finished as they had thought, and that both of them had broken pieces. "Big Brother has decided to be lenient with the both of you. Kindly continue when next the light comes on." When it did, it took about 0.75 seconds for Angel to say, "done!" After they were promised that Biggie would review their performances, there was nothing left for them to do but wait while he did so.
When Biggie returned, he asked the two to arrange the assorted pieces according to a reference image – probably to make it easier to determine who had done the best job. After chiding Pere for continuing to work while the light was off, Biggie asked him to count all the pieces he had disassembled – forty-nine.
Angel was asked to do the same, and she tallied up a total of forty-seven. "You are supposed to have fifty-four pieces each.  Kindly continue when the light comes on – for the final time." Wow – this really got dragged out!
Once again, the light was put on, and once again, Pere and Angel got to work. By this point, you'd be forgiven for thinking they would just prefer to leave the House than do more of this, but you'd be wrong – N90 million is a great motivator, after all.
"I'm done," declared Angel. Of course, being first means nothing if you didn't do the job correctly, so we still needed Biggie to check in. Both were again asked to count the total number of pieces – Pere had fifty-three, Angel had fifty-four. Pere had one screw still attached. "Housemates… as you were." Oh, c'mon! We were so ready to hear the winner, but Biggie needed to review their final tallies.  Angel and Pere were certainly more anxious than we were, so at least we didn't need to go through that.
While they were waiting to hear the results, life inside the House went on as usual, with the other four Housemates completing a Task from Patricia and taking part in the week's Head of House Games. When these were completed, we were returned to the Diary Room and a patiently waiting Angel and Pere. Both of them regarded the challenge as very tough.
"How will Big Brother reward your tenacity? Why not give both of you a chance to play in the finals? After all, you play the game excellently." An emotional pair of Housemates embraced in joy.
For both of them, this means a shot at winning the grand prize worth N90 million and instant fame as the sixth winner in the history of Big Brother Naija. Angel's time in the House has been marked by arguments. The first was with Sammie, who made it clear he was romantically interested in her. When her kiss with Kayvee resulted in Sammie being less-than-pleased, she accused him of trying to "slut shame" her, although she did express regret at his Eviction. Her second argument of note was with Boma, a situation that she says she simply cannot forget.
This also means we do not have to say goodbye to Pere, who entered the game as one of two Wildcards, which put him in jeopardy of going home early had the Housemates managed to sniff him out – which they didn't. Having cleared that first hurdle, Pere set about making a name for himself as a somewhat militant, very direct individual – made abundantly clear during his reign as Head of House. His partnership with Maria certainly left its mark on the House, as the two of them served as successive Heads of House. Pere had also survived numerous Eviction Nights, having found himself named on a lot of Nomination lists. Now, he can add this to the long list of challenges he has survived.
Angel and Pere now join Cross, Emmanuel, Liquorose and Whitemoney in the ultimate battle for your votes. It's Finale Week, which means there's no immunity and no more chances. Your vote has never mattered more, so you know what to do.