BBNaija 2022 Week 6 Nomination Result and Vote Poll – Amaka Evicted Housemate
Week 6 in the Big Brother House started on a high note with the 18 remaining housemates as the headed into the Head of House game to fight for immunity from nomination. The highly competitive game was won by Dotun earning him immunity from nomination and exclusive right to occupy the Head of House bedroom with a companion.
Following the Head of House game, all 18 housemates were required to go into the diary room to nominate two housemates for possible eviction tonight. Tonight's nomination is a special one as the most nominated housemates will be evicted from the Big Brother house tonight. Here are the nominations.
Housemates
Nominated Housemates
Chomzy
Amaka and Doyin
Chizzy
Eloswag and Bella
Giddyfia
Chizzy and Amaka
Rachel
Hermes and Deji
Adekunle
Doyin and Amaka
Hermes
Doyin and Chichi
Sheggz
Chizzy and Diana
Bella
Adekunle and Chizzy
Diana
Chichi and Deji
Chichi
Adekunle and Allysyn
Bryann
Amaka and Eloswag
Doyin
Rachel and Adekunle
Deji
Hermes and Doyin
Eloswag
Doyin and Amaka
Groovy
Adekunle and Doyin
Phyna
Adekunle and Hermes
Daniella

Amaka

Allysyn

Dotun

Hermes and Chichi

Giddyfia and Chomzy

Rachel and Chizzy

Rachel and Amaka
BBNaija 2022 Week 6 Nomination Result
This is the result the nomination for week 6. Deji nominated Hermes and Doyin however his nomination will not count being that he's a fake housemate. Also Rachel and Chizzy's nominations were not counted.
Housemates
No. of Nominations
Diana
1
Rachael
3
Chichi
3
Bryann
0
Doyin
5
Eloswag
1
Groovy
0
Daniella
0
Amaka
6
Phyna
0
Allysyn
1
Adekunle
5
Bella
0
Hermes
4
Sheggz
0
Giddyfia
1
Deji

Chizzy

Dotun

Chomzy

2

4

Head of House

1
BBNaija Week 6 Evicted Housemates
With the special nomination session, Amaka got six (6) nominations and have been evicted from the Big Brother Naija house.
BBNaija Week 6 Housemates up for Eviction
With the eviction of Amaka, Big Brother placed all remaining housemates except the Head of House on possible eviction.
BBNaija Week 6 Vote Poll
You can vote for the nominated housemates here;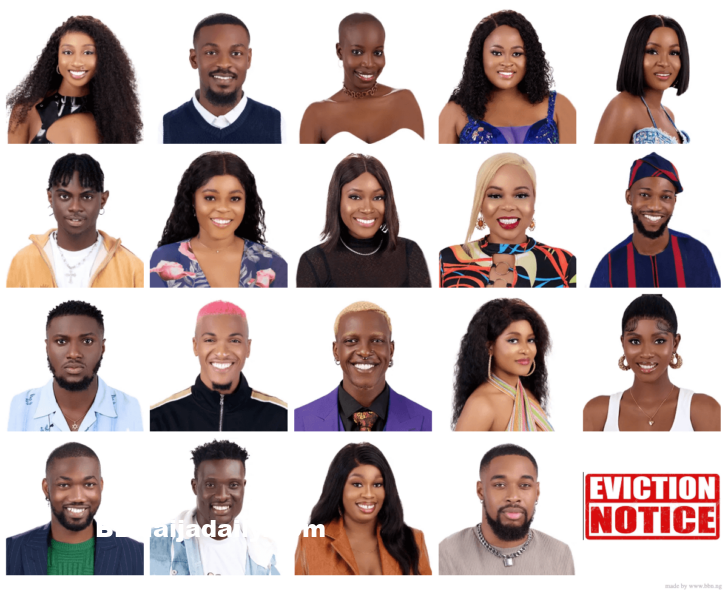 You have 100 votes daily. Click VOTE AGAIN to continue voting.
Who are you saving this week? Leave a comment in the comment box below and share your thoughts with other fans