BBNaija 2022 Week 7 Result and Percentage – Evicted Housemates
Big Brother Naija Week 7 began with the Head of House game which was won by Hermes followed by the nomination process which saw the nomination of 6 housemates for possible. The Head of House winner Hermes used his Veto Power to save Adekunle from possible eviction and replaced him with Bryann. In case you missed the nomination process, watch it below;
BBNaija 2022 Week 7 Veto Power
Hermes who won the Head of house game for this week used his veto power so save Adekunle and replaced him with Bryann.
| | |
| --- | --- |
| Housemates | No. of Nominations |
| Eloswag | 5 |
| Adekunle | 4 |
| Bella | 4 |
| Doyin | 3 |
| Phyna | 3 |
| Chomzy | 3 |
BBNaija Week 7 Housemates up for Eviction
Here are the housemates up for eviction this week.
Bella
Bryann (Replaced)
Chomzy
Doyin
Eloswag
Phyna
BBNaija Week 7 Evicted housemates
Big Brother introduced a new twist in the show by introducing a new house called Level 3. All evicted housemates in Week 7 were moved to level 3 house will be retained in the level 3 house as guests till at least 18th of September. The evicted housemates have not been informed of their eviction and they are no longer in contention for the 100 million Naira grand prize. Three (3) housemates were evicted from the Big Brother Naija merged house this week.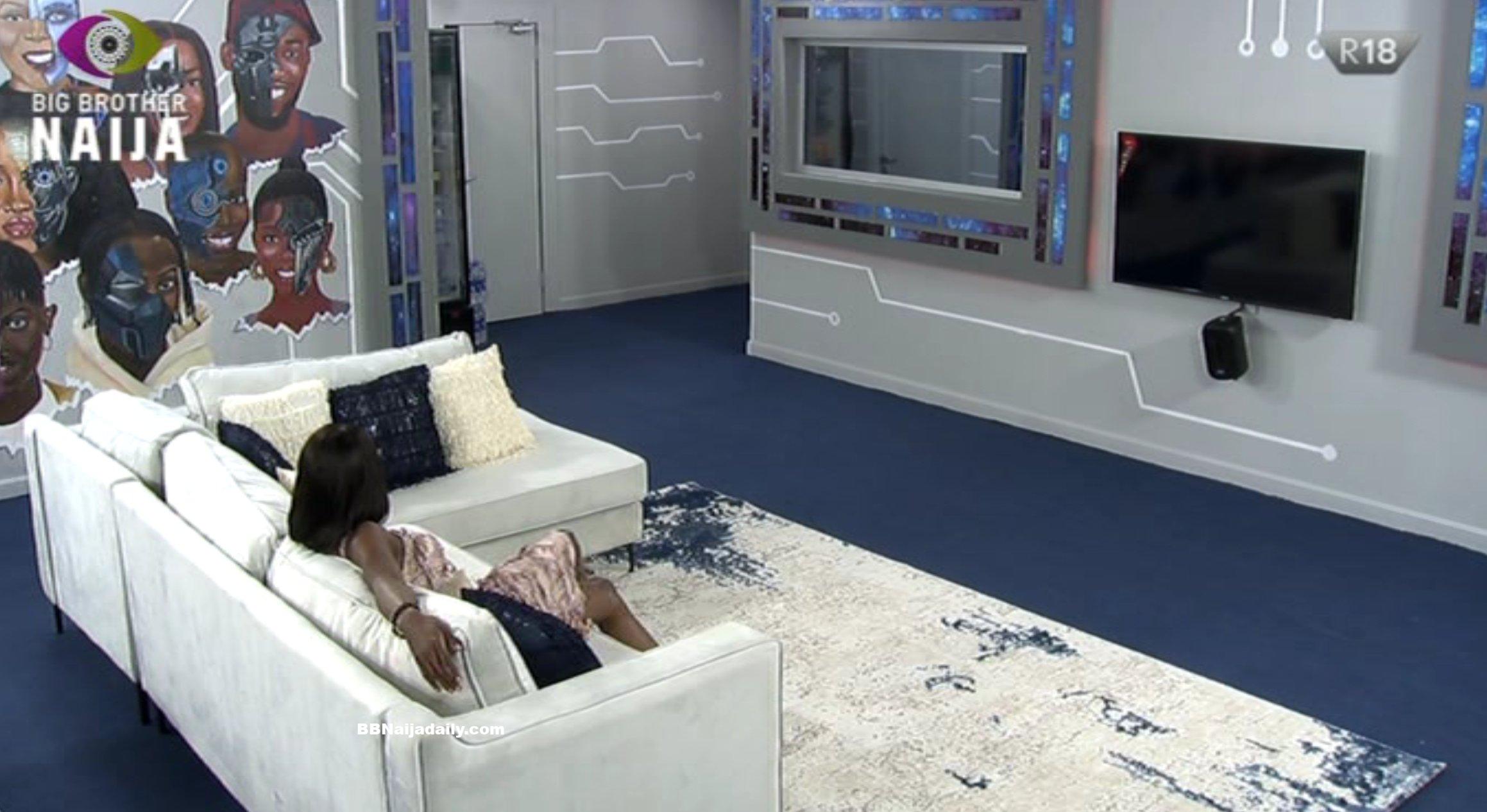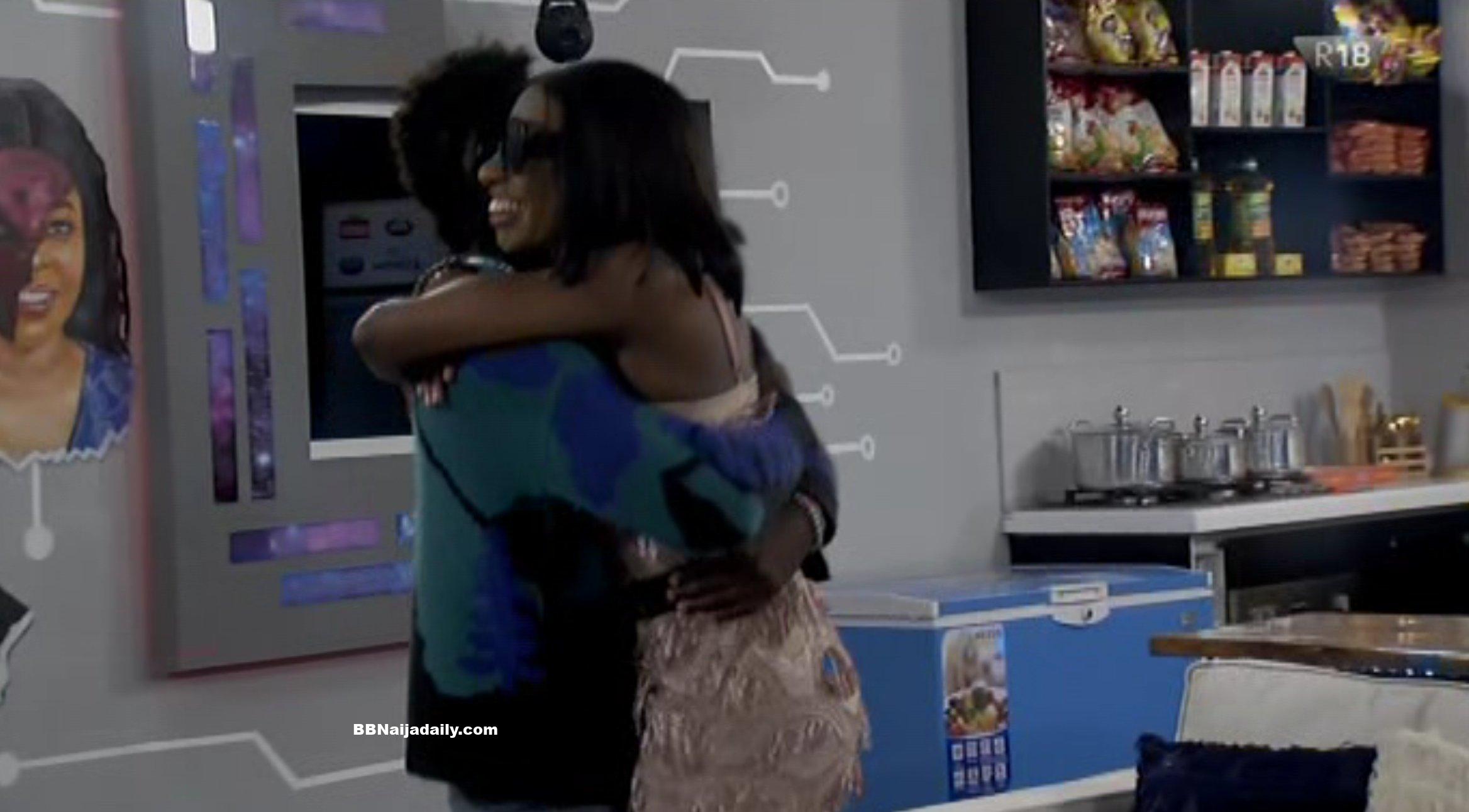 The Evicted housemates (Level 3 guests) will go back at some point and join the remaining housemates and they will partake in all regular activities like Diary session, tasks, etc but not the Head of House game. Here are the Evicted housemates and Level 3 guests.
Doyin
Doyin is the 11th housemate to be evicted from the Big Brother Naija house. She was shocked after finding out that level 3 housemates Chomzy and Eloswag were among the housemates who nominated her for eviction. She's open to various things after the show. On her relationship with fellow housemate Cyph, she disclosed they'll have to talk about it.
Doyin's BBNaija Journey
Certified medical Radiographer Doyin's Big Brother Naija journey touches every single Housemate in the Level Up season. She gave us real conversations, fashion, sismance and of course, that much-talked-about lip-locking episode with Cyph.
Eloswag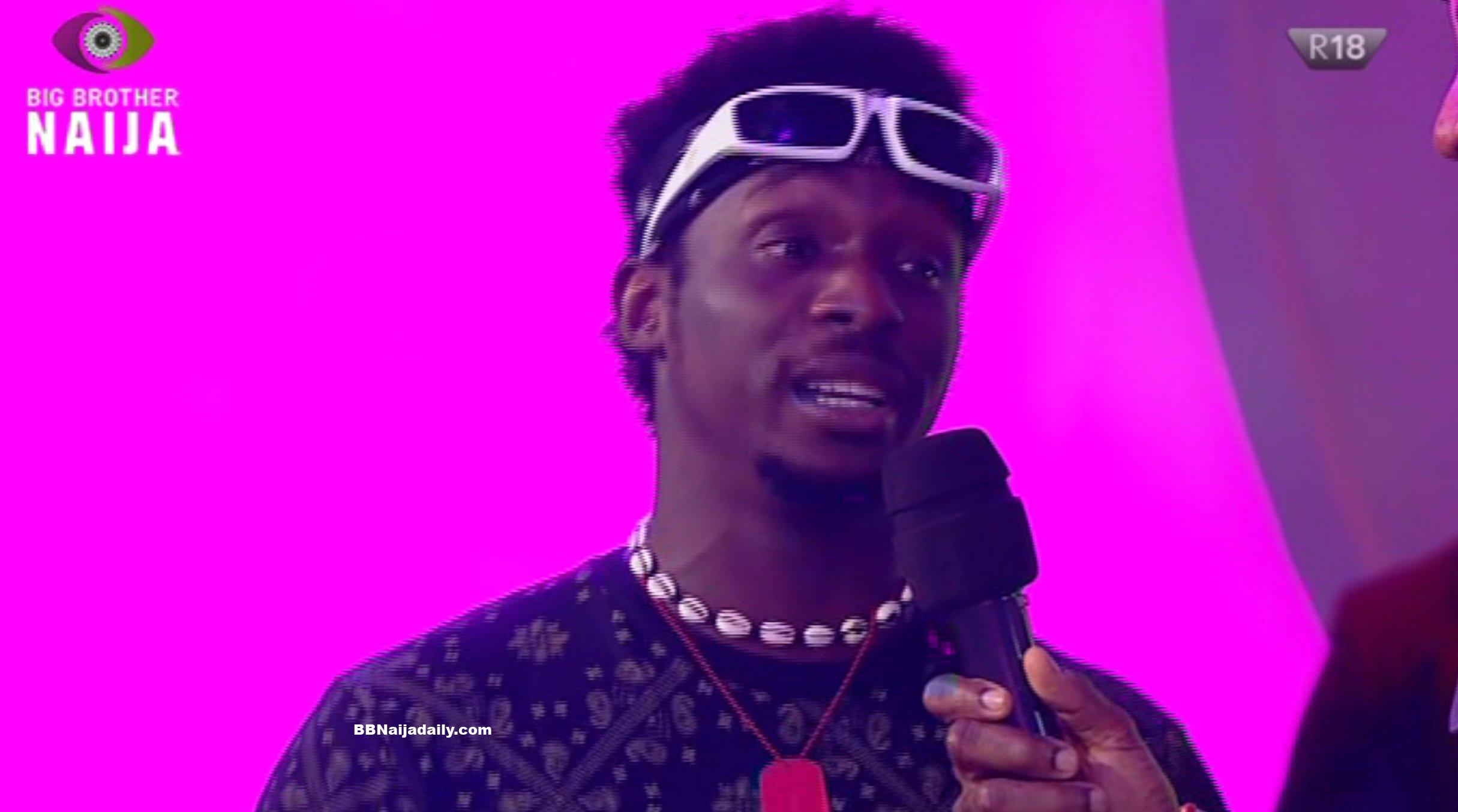 Eloswag is the 12th housemate to be evicted from the Big Brother house. He was shocked that Groovy and Bryann were among the housemates that nominated him for eviction. He will be developing and expanding his brand after the show. He disclosed that he is open to a relationship with Chomzy outside the Big Brother house.
Eloswag's BBNaija Journey
Eloswag promised vibes and energy when he came into Biggie's House and boy he did deliver. He also showed a very competitive side in all Tasks and Games, even bagging himself an HoH title.
Chomzy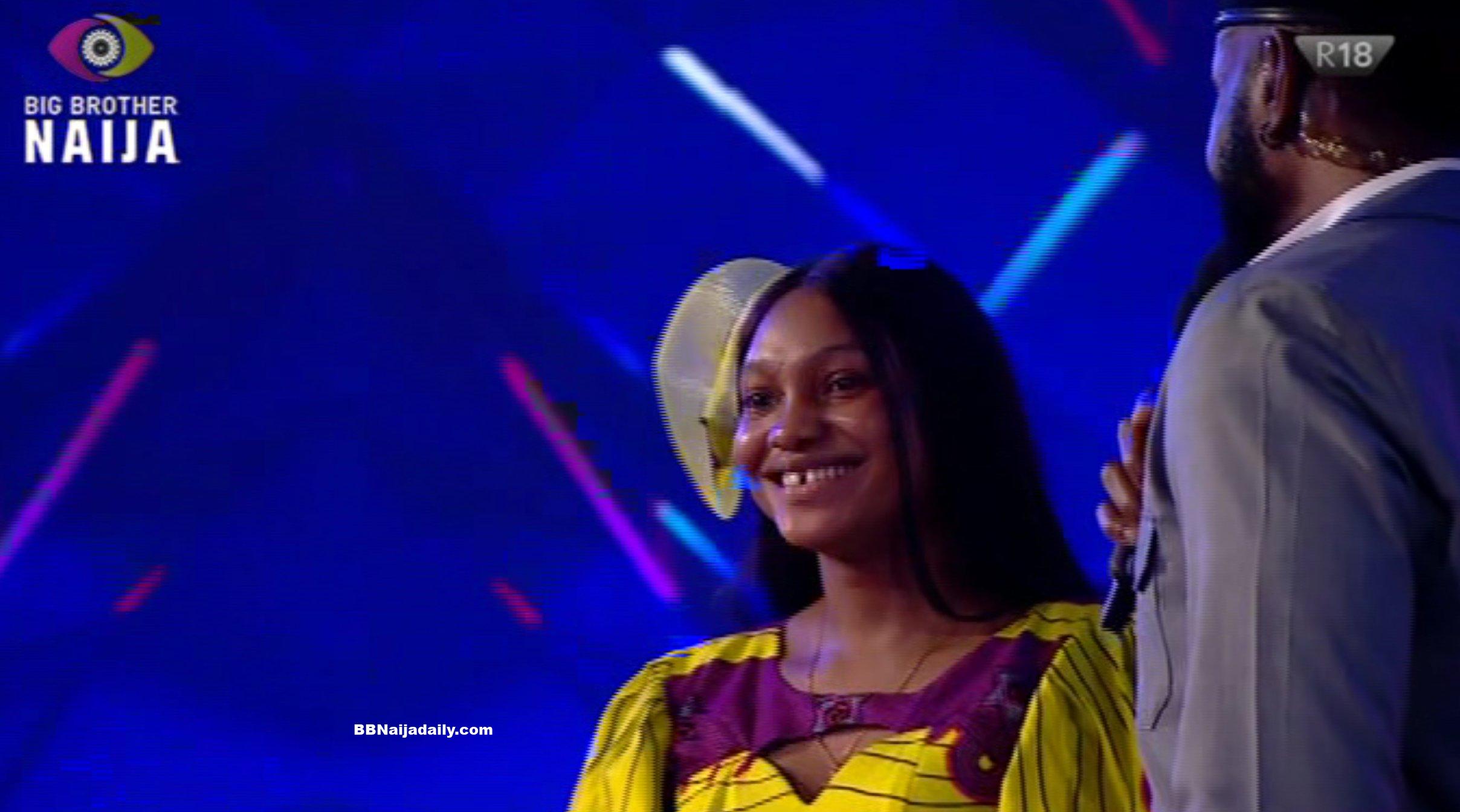 Chomzy is the 13th housemate to be evicted from the Big Brother house. She plans to build her relationship with Eloswag after the show. She expressed shock after finding out that Bryann was among the 3 housemates that nominated her for possible eviction.
Chomzy's BBNaija Journey
Chomzy goes down in Big Brother Naija Season 7 history as one of the most competitive female Housemates having won millions of Naira in Arla, Munch It and Pepsi Tasks, to name a few. She has also consistently run Biggie's dance floors during both the Thursday Pool and Saturday Night Parties.
BBNaija Week 7 Vote Result and Percentage
This is how viewers voted for their favourite housemate this week.
| | |
| --- | --- |
| Housemates | No. of Nominations |
| Doyin | 11.98% |
| Chomzy | 8.96% |
| Eloswag | 6.55% |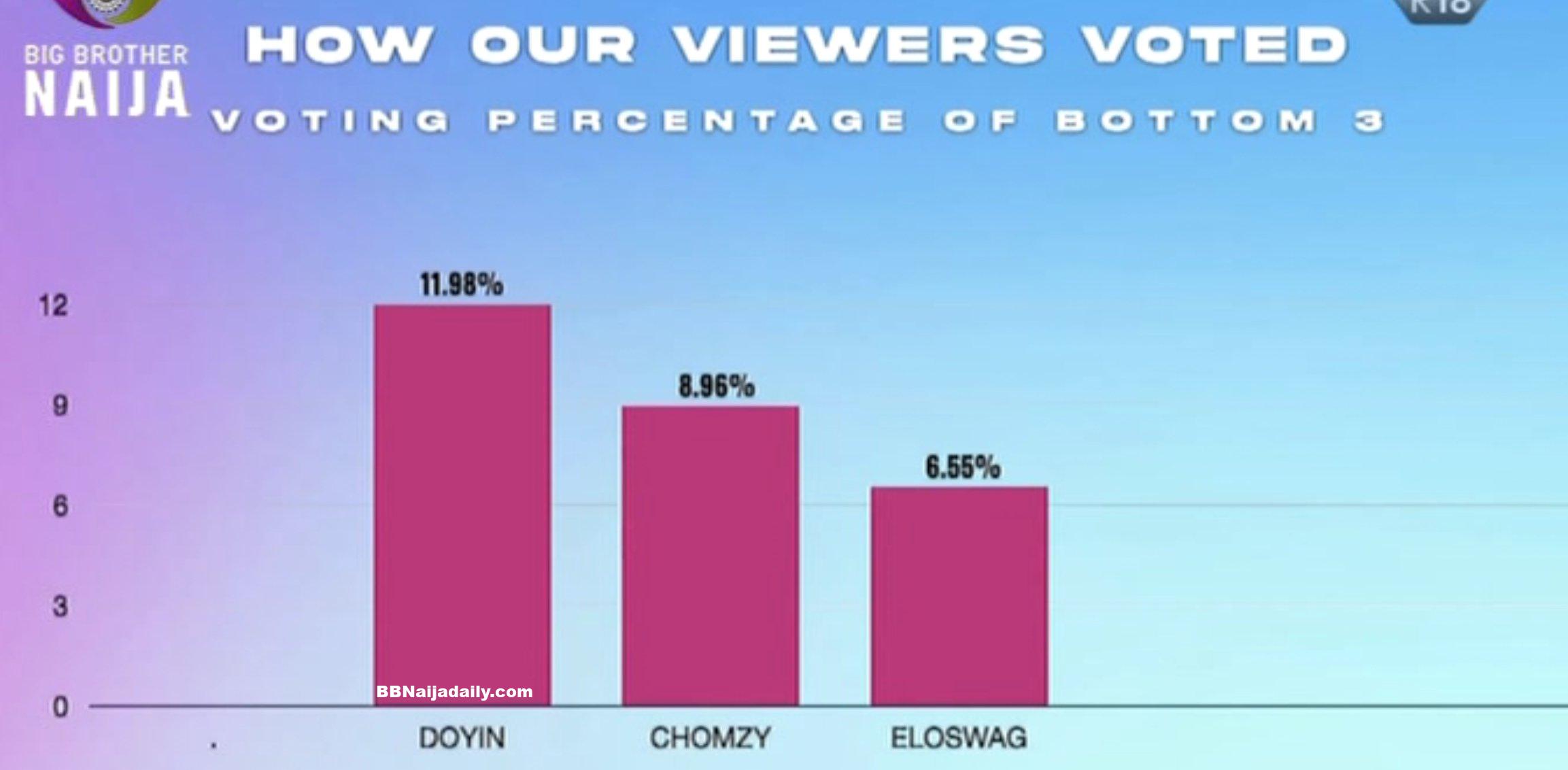 What do you think about the new twist?