BBNaija 2023 Week 7 Vote Poll and Result
BBNaija 2023 Week 7 Vote Poll and Result
Following Sholzy's victory in the Week 7 Head of House game on BBNaija, each housemate was called into the diary room individually. Inside, they were tasked with naming three fellow housemates whom they wanted to nominate for possible eviction from the Big Brother Naija house in preparation for the Week 7 live eviction show, set to take place on Sunday, September 10th, 2023.
Black Envelop Game
Adekunle found the envelop with the tag "Immunity". This earned him immunity from nomination for the week. Whitemoney on the other hand was not so lucky as he found the envelop with the tag "Automatic nomination" placing him on nominated housemates list and he will be up for possible eviction.
BBNaija 2023 Week 7 Nominations
This how the BBNaija housemates nominated one housemate for immunity from possible eviction this week.
| | |
| --- | --- |
| Housemates | Nominations |
| Adekunle | Mercy, Alex and Doyin |
| Alex | Neo, Doyin and Venita |
| Doyin | Kim Oprah, Venita and Soma |
| Ceec | Ilebaye, Doyin and Soma |
| Neoenergy | Kim Oprah, Ilebaye and Angel |
| Angel | Kim Oprah, Venita and Doyin |
| Pere | Alex, Ilebaye and Neo |
| Mercy Eke | Neo, Doyin and Kim Oprah |
| Ilebaye | Venita, Kim Oprah and Pere |
| Venita | Doyin, Alex and Mercy Eke |
| Whitemoney | Ceec, Ilebaye and Venita |
| Cross | Soma, Ceec and Ilebaye |
| Soma | Doyin, Kim Oprah and Mercy |
| | |
Housemates up for Eviction
Here are the Big Brother Naija 2023 housemates with the least nominations from week 7 and are up for eviction.
Whitemoney – Black Envelop Automatic Nomination
Doyin – 7
Venita – 5
Ilebaye – 5
Soma – 3
Neoenergy -3
Alex – 3
Mercy Eke – 3
BBNaija 2023 Week 7 Vote Poll
You can vote your favourite housemate up for eviction below.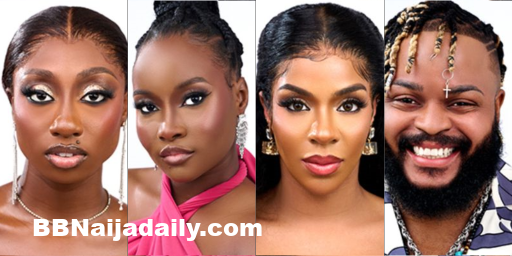 You can vote up to 100 times. Click vote again to continue voting. Voting opens on Monday 8:00PM and closes on Saturday 9:00PM.
Leave a comment in the comment section and interact with other viewers.
DISCLAIMER: The vote results displayed on this page exclusively represent votes cast on this website and do not include votes made through the DSTV app, GOTV app, or DSTV website. While these results may not be entirely precise with the result released on Sunday live eviction show, they are a true reflection of how viewers are currently voting.