BBNaija Housemates Wins Wager Task for Week 6 (Super Hero Art Piece)
BBNaija Housemates Wager Task for Week 6 (Super Hero Art Piece)
Today's wager task for the housemates was for them to make an art piece (portrait) describing their super hero. The challenge started with Erica leading the way.
Today's art pieces were judged based on the quality of art but by the story they tell, and Biggie will reveal the result of the Wager tomorrow evening. Each Housemate had to present their art piece or pieces in front of the House.
Tonight, they had to tell the House the inspiration behind the art piece, who it is dedicated to and why you consider that person a superhero. The Housemates were not timed on this presentation; however, the Head of House had the liberty to determine the length of each individual presentation.
The gig for tonight is that the more personal and creative each individual presentation is, the more they are likely to win their Wager. The presentation took place in the Lounge, with Ozo coordinating the whole process and Lucy hosting the art show.
Housemates who picked their mother as their hero were called on first before other housemates. The Housemates were told to feel free and vulnerable, tell their story as well as they can, as it is their truth.
Starting with appreciative messages and tributes to their mothers as their heroes, Erica, Trikytee, Vee, Lucy and Nengi presented their art pieces as they shared emotional stories about their mothers.
Erica
We found it very cute that while they all had different stories, they all had the same type of love and emotions and reactions as they took the House through their presentation. While Erica told us an emotional story about how her mother raised her as a single mom, providing the best things of life using the little resources she had.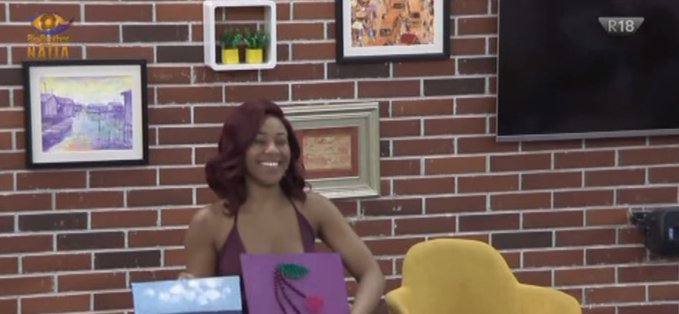 Trikytee and Brighto
Trikytee also got us reaching out for tissue paper to dry our tears as he disclosed how his mother is the only one that comes through for him, even when things are rough. Brighto started off his presentation with the popular Dolly Parton's 'Coat of Many Colours' and let us in on his mother's sacrifices to give him a good life.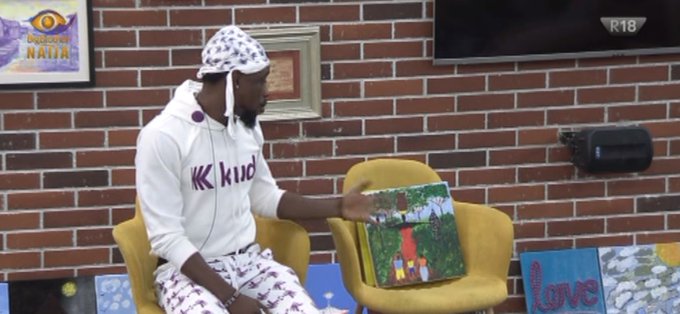 Lucy and Vee
Also, on this table, sat Lucy and Vee as they took us on an emotional ride through their stories.
Although Lucy's mother has died, she owes her strength and business mind to her second mother who is her aunty. Vee also disclosed her mother's sacrificial qualities for the family, and she can't wait to reward her.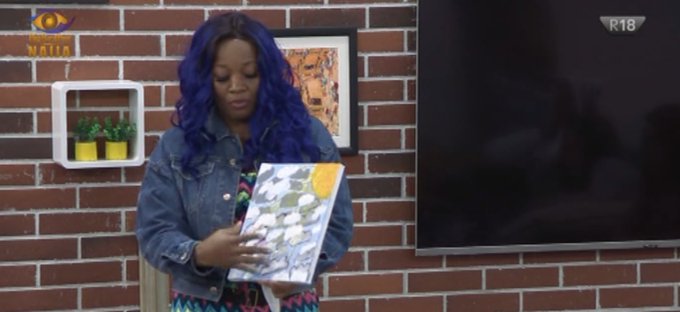 Nengi
Nengi who lost her mother at a very young age and her father at an even younger age, left us with a touching story that explained how much of a pillar her mother was to her while growing up. "I love you so much wherever you are," she said while concluding her presentation.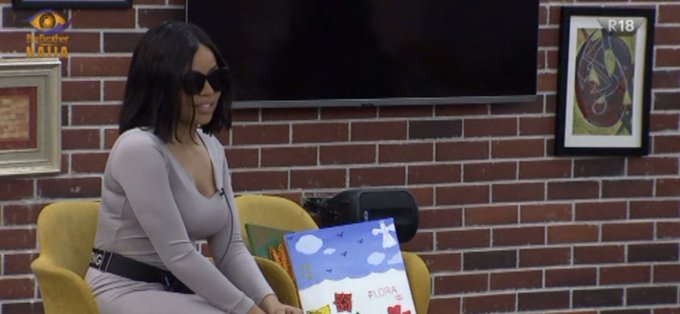 Housemate who picked their Father as their hero
Kiddwaya
Starting this category, Kiddwaya began the father's appreciation stories in tonight's Wager Task as he took us through the amazing qualities of his father, and how his dad has taught him everything great he has learnt in his life- from how to help others to how to have a good time in your journey in life, there's no limit to what Kiddwaya has learnt from his father.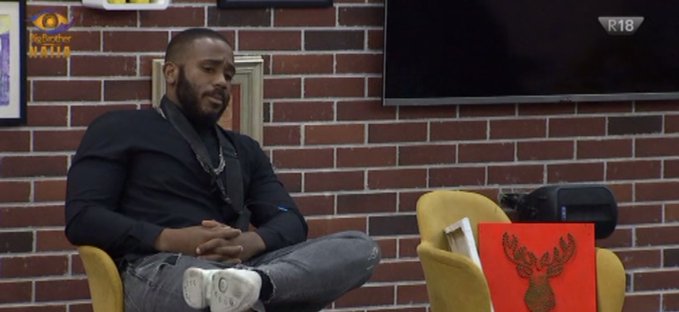 Ozo and Neo
Ozo took the baton from Kiddwaya as he kept thanking his father for instilling love and discipline in his life. He recounted a story that changed his life as that eventful moment brought him back to reality and reminded him on why he will never disappoint his father. "I hope I can be 70 percent the man that you are dad," he said with so much love.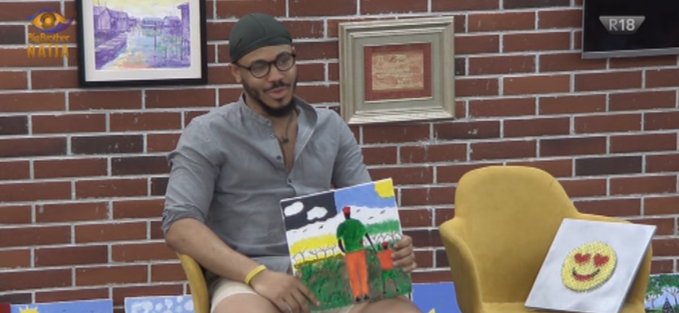 Describing himself as "a broke boy from a rich house", Neo told us about his large family and how the size of his family has never stopped his dad from being present in their lives and also did not fail to instill discipline in his many children.
Laycon
Laycon also talked to us about his late father and his hard times while on earth. His art piece was a representation of his father's hand looking over him and while he sees his mother as his hero, he decided to take this opportunity to give a tribute to his late father.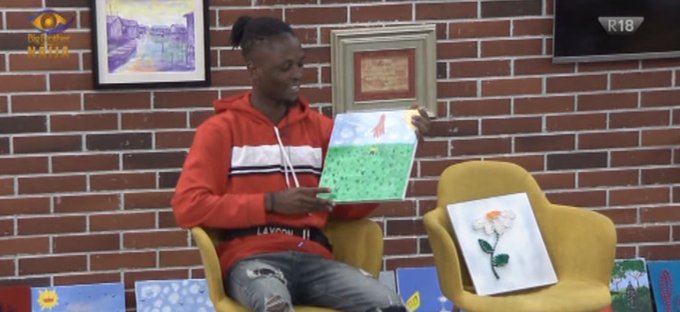 Prince
Still on tributes to fathers, Prince talked to us about what it is like to live in royalty and remain disciplined and focused without letting the privileges get to you. This is what Prince owes so much to his father for as he sent across a love and appreciation message to his father for all he does for the home and the village. "Thank you, dad, for every time you cautioned me and every time you beat me to show me the right way," Prince said with a grateful heart.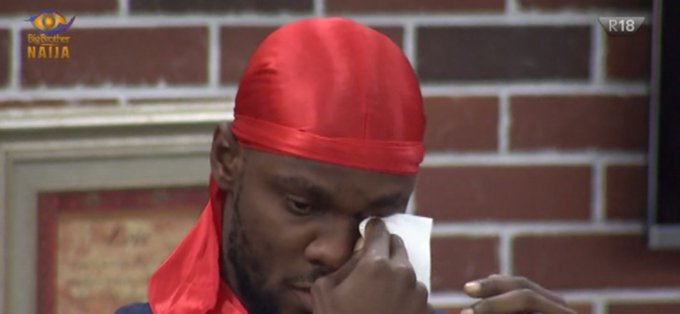 Housemates who picked their relatives as their Hero
Dorathy
Not all heroes wear capes. This is the case of the other family members that the Housemates listed as their heroes in their presentation tonight. Dorathy gave her hero message to her uncle who took over her father's responsibilities in her life and that of her siblings, after his father died.
From getting her to one of the best universities to instilling great business acumen in her, her uncle sure deserves Superman's cape.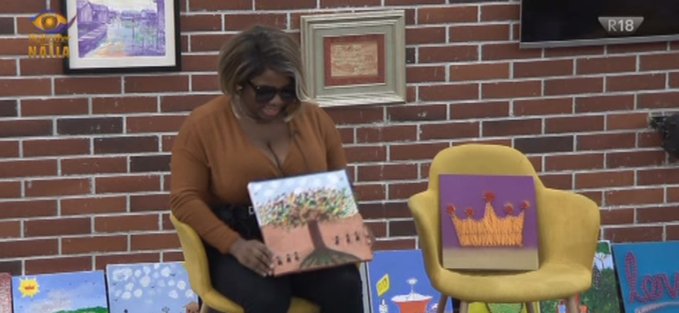 Tolanibaj
Tolanibaj gave her tribute to her sisters for coming through for her in times where she was confused and depressed. "My sisters, my rock," she said as she took us on this emotional yet short presentation about the role her sisters played in her life.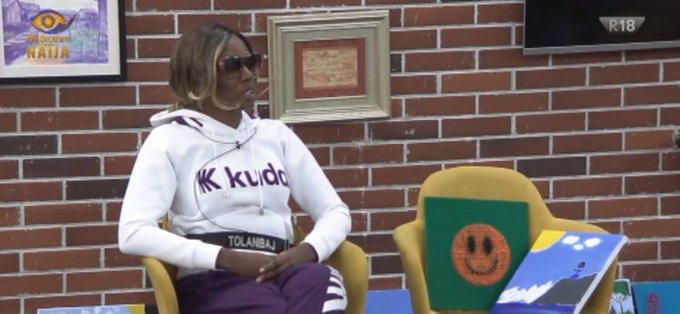 Wathoni
Wathoni ended this with an emotional presentation about her son being her hero. She started off this presentation with the popular children's song, 'shark-do-do' as she talked us through how her life with her son is centered around music and words between them.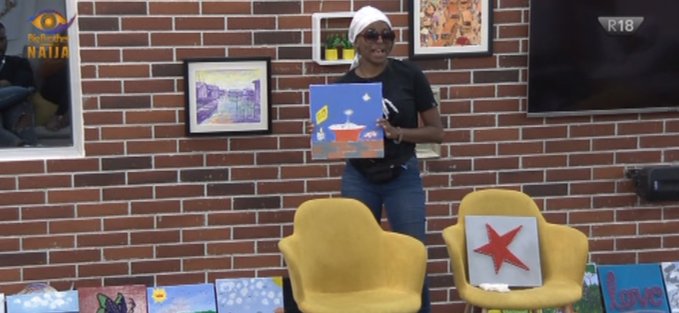 Going through a day-in-her life with her son, she let us in on the beautiful mother-son relationship. What got the Housemates wide-eyed was when she revealed the story on how she conceived her son without having any sexual intercourse. Such a brave reveal.
The results of the wager was announced after the Friday Betway Arena game that saw Kiddwaya emerge winner.
While giving the verdict, Big Brother praised the Housemates for putting in their best in the wager challenge, and also emphasize on how some of their stories matched with the art piece they presented.
With this win, the Housemates have now doubled their BB coins which they can use for luxury shopping.