BBNaija Reunion Day 2 Highlights 2021 for Lockdown Housemates (Video)
Today's show started off with the host Ebuka introducing the topic of discussion which is "Love Triangles", how it happened and how they started.
Ozo, Dorathy and Nengi Love Triangle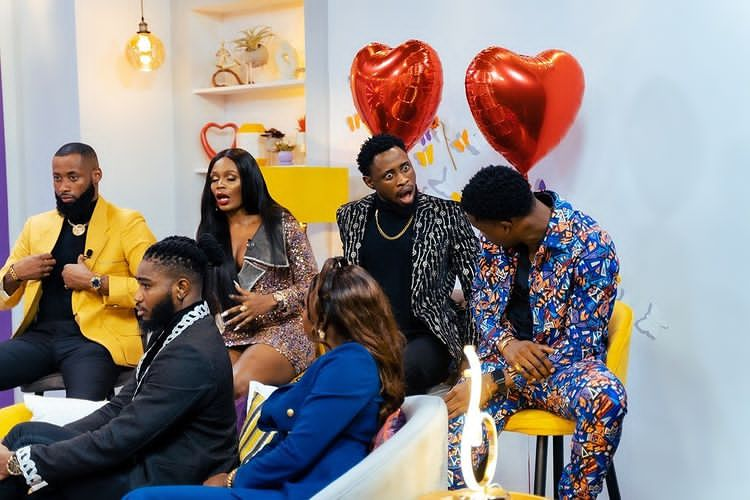 A short video clip was played where Dorathy gave several advices to Ozo on his relationship with Nengi. After the video clip, Ebuka then asked asked Ozo why he always run to Dorathy for advice.
Ozo responded that Dorathy was the first person he bonded with stating that Dorathy shared her bed with him the first night he spent in the House. However, his relationship with Dorathy was just friendship and no feelings involved. He also stated that he saw Dorathy as a friend and was comfortable discussing with her the issues he had with his relationship with Nengi.
Ebuka then questioned Ka3na on a comment she made where she called Nengi a side chick. Ka3na replied that she had always seen Ozo to be attracted to Dorathy but his problem was that he likes Dorathy's personality but not her physical appearance. Wathoni briefly replied that she think Dorathy had feelings for Ozo but it was one-sided as Ozo was after Nengi.
Dorathy responded that she never had feelings for Ozo but had always liked Prince which was the reason she stepped back after noticing Ozo was including her in his love triangle. She stated that she felt hurt after speaking with Ozo on certain issues but Ozo will move on to discuss her opinions with Nengi.
Prince supported her claimed and disclosed that they have had such conversations before and he's confident Dorathy had no feelings for Ozo.
See the video below;
The climax of today's show was when Ka3na exposed a conversation he had with Ozo before the last Saturday night party where Ozo told her that his family and friends were so disappointed with the way he followed Nengi around during the show. She continued that Ozo told her he wanted a revenge to make Nengi jealous, so they planned it out that Ozo should ignore Nengi during the party. Ozo however blatantly denied having such conversation with Ka3na. Ka3na claimed Ozo was never inlove with Nengi or Dorathy but was just flirting with both them.