The Big Brother Naija Season 4 Voting results for today week 11 for housemates nominated for possible eviction from the Big Brother Naija House is out. A total of four (4) housemates were nominated for eviction this week. Let us see how Nigerians and Africans voted at large for their favourite housemates and housemate with the highest number of votes for this week.
The BBNaija Week 11 Nomination
The week 11 saw Mike, Seyi, Tacha and Khafi placed on possible eviction because they got the highest number of nominations by housemates for eviction. Here is how the housemates nominated.
Ike Nominated Diane and Khafi
Cindy Nominated Diane and Ike
Omashola Nominated Mercy and Tacha
Khafi Nominated Seyi and Mercy
Elozonam Nominated Frodd and Tacha
Mercy Nominated Omashola and Khafi
Mike Nominated Omashola and Tacha
Tacha Nominated Seyi and Mike
Frodd Nominated Mike and Ike
Diane Nominated Omashola and Mike
Seyi Nominated Tacha and Khafi
Head of House
Cindy is the head of house means which means she is immune to nominations
Veto Power Holder
Omashola is the Veto Power Holder for week 11 saved himself in replacement with Seyi.
BBNaija Week 11 Voting/Nomination List
These are the housemates up for eviction this week.
Big Brother Naija week 11 voting results 2020
A total of 4 housemates were placed on possible eviction from the Big Brother house. They are Mike, Seyi, Tacha and Khafi.
Big Brother Naija week 11 Voting Results Today 2020
Below is the comprehensive BBNaija week 11 voting results with voting percentage of each housemate.
Tacha – 28.51%
Mike – 26.44%
Seyi – 25.82%
Khafi – 19.23%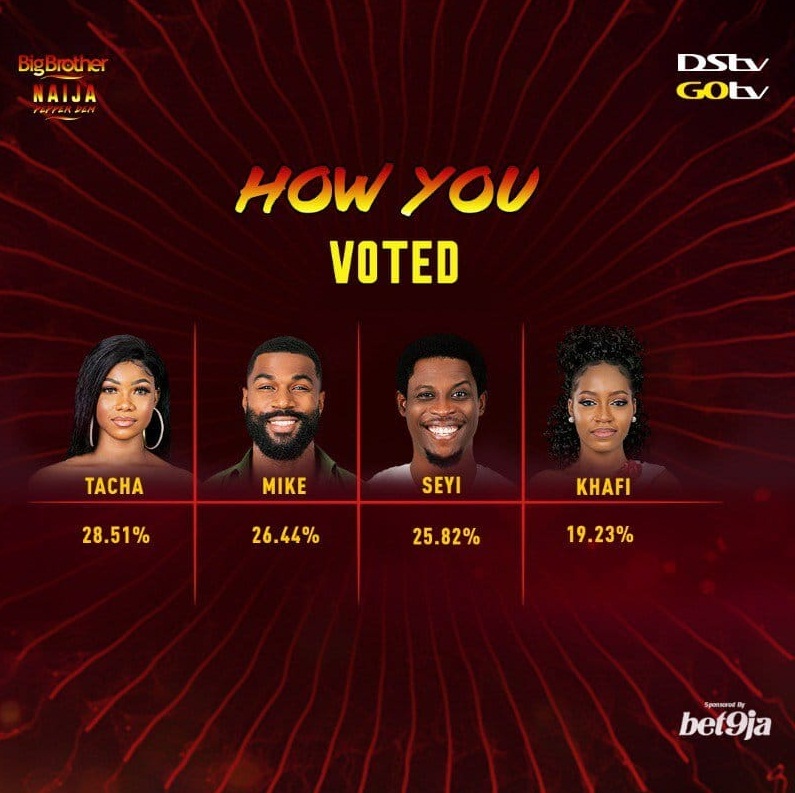 Evicted Housemate for Week 11
Khafi got the lowest number of votes (19.23 percent) and thus has been evicted from the Big Brother house.
How Many BBNaija housemates remaining?
A total of 9 housemates are left in the Big Brother Naija house. They are:
Mercy
Frodd
Ike
Diane
Mike
Omashola
Seyi
Elozonam
Tacha
BBNaija Week 11 Search Results
BBNaija vote percentage today
BBNaija vote result
BBNaija voting percentage
BBNaija voting poll
BBNaija voting polls for this week
BBNaija voting result
BBNaija voting result for week 11
BBNaija voting result today
BBNaija voting results 2020
BBNaija voting site
Big Brother Naija 2020 voting results
Big Brother Naija 2020 voting results today
Big Brother Naija poll result for week 11
Big Brother Naija voting poll results
Big Brother Naija voting results