Last Updated on
The Big Brother Naija Season 4 Voting results for today week 13 for housemates nominated for possible eviction from the Big Brother Naija House is out. A total of five (5) housemates were nominated for eviction this week. Let us see how Nigerians and Africans voted at large for their favourite housemates and housemate with the highest number of votes for this week.
The BBNaija Week 13 Nomination
The week 13 saw Mike, Elozonam, Tacha, Cindy and Ike placed on possible eviction because they got the highest number of nominations by housemates for eviction. Here is how the housemates nominated.
Mercy Nominated Tacha and Omashola
Elozonam Nominated Tacha and Frodd
Ike Nominated Cindy and Elozonam
Tacha Nominated Cindy and Elozonam
Frodd Nominated Mercy and Mike
Cindy Nominated Diane and Ike
Omashola Nominated Mercy and Elozonam
Mike Nominated Frodd and Tacha
Diane Nominated Mike and Tacha
Seyi Nominated Ike and Mercy
Head of House
Seyi is the head of house means which means she is immune to nominations. Mercy bought immunity with her Bet9ja coins which got her exempted from nomination
Veto Power Holder
Frodd is the Veto Power Holder for week 13. The housemate's nomination was void after big brother made a shocking announcement that the winner of bbnaija ultimate veto power game of chance "Frodd" will have the sole right to put five housemates of his choice up for possible eviction. So Frodd nominated Cindy, Elozonam, Ike, Mike and Tacha. Lots of drama later followed throughout the week. First Cindy was evicted on Thursday followed by Tacha's disqualification
BBNaija Week 13 Voting/Nomination List
These are the housemates up for eviction this week.
Mike
Cindy
Tacha
Elozonam
Ike
Big Brother Naija week 13 voting results 2020
A total of 5 housemates were placed on possible eviction from the Big Brother house. They are Mike, Cindy, Tacha, Elozonam and Ike.
Big Brother Naija week 13 Voting Results Today 2020
Below is the comprehensive BBNaija week 11 voting results with voting percentage of each housemate.
Tacha – 41.66%
Mike – 26.64%
Ike – 18.90%
Elozonam – 7.15%
Cindy – 5.65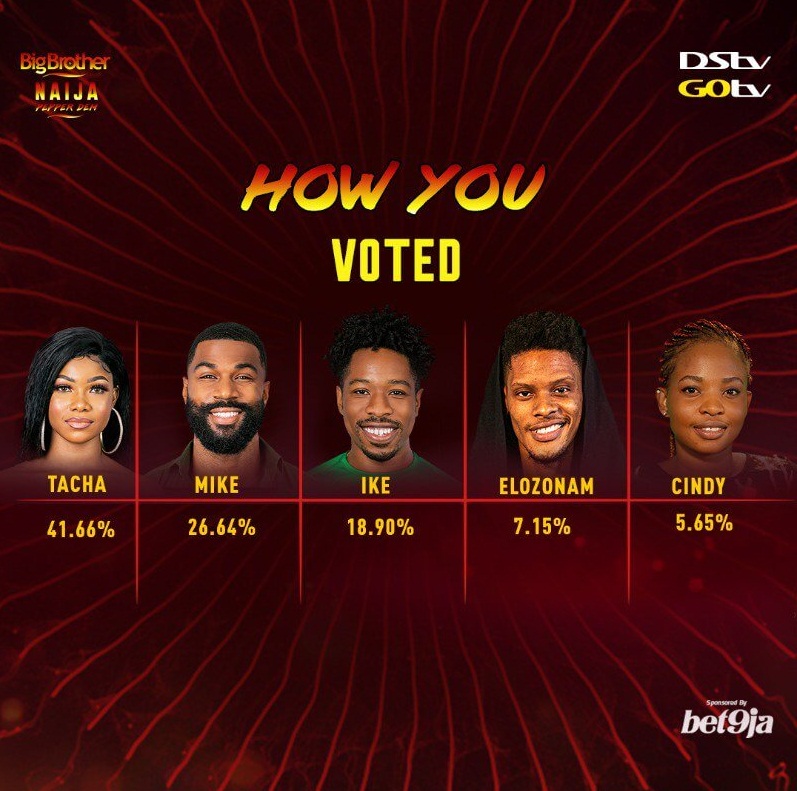 Evicted Housemate for Week 13
Cindy, Elozonam and Ike got the lowest number of votes (5.65 percent, 7.15 percent, 18.90 percent respectively) and thus three of them have been evicted from the Big Brother house.
How Many BBNaija housemates remaining?
A total of 6 housemates are left in the Big Brother Naija house. They are:
Mercy
Frodd
Mike
Omashola
Seyi
Tacha
BBNaija Week 13 Search Results
BBNaija vote percentage today
BBNaija vote result
BBNaija voting percentage
BBNaija voting poll
BBNaija voting polls for this week
BBNaija voting result
BBNaija voting result for week 13
BBNaija voting result today
BBNaija voting results 2020
BBNaija voting site
Big Brother Naija 2020 voting results
Big Brother Naija 2020 voting results today
Big Brother Naija poll result for week 13
Big Brother Naija voting poll results
Big Brother Naija voting results