BBNaija 2021 Week 3 Vote Result – 2 Housemates that May be Evicted in Sunday Live Eviction Show
The pressure is on six (6) housemates who were nominated and placed on possible eviction fight for their survival in Big Brother's house through viewer's votes. Recall that during the nomination on Monday nights, Arin, Emmanuel, Nini, Saga, Princess and Tega got the highest nominations in the house. However, the reigning Head of House Pere used his veto power to save Saga and replaced him with Saskay.
The fate of the six housemates were dependent on viewers votes which ended on Thursday night. The results of votes for each housemate will be announced during the Sunday live eviction show where the housemate(s) with the least number of votes from viewers will be evicted from the show. In this article, I analysed the chances of each housemate surviving eviction based on results from our online vote poll.
Following the nominations on Monday, an online poll was set up where BBNaijadaily readers were required to vote the housemate they are willing to save from eviction among the six nominated housemates.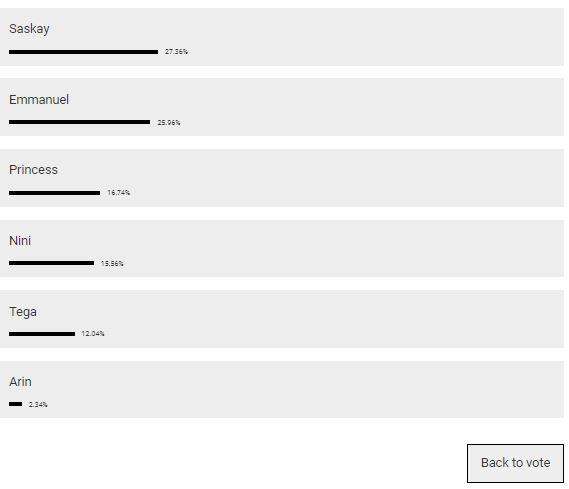 Result from the online poll showed Saskay is viewers favourite where she got 26.36% (percent) of the votes. Emmanuel was next with 25.06%.
The battle for survival this week will be between Princess (16.74), and Nini (15.56%),  and Tega (12.04%). The chances of Arin (2.34%). surviving eviction is slim as she got the least number of votes from our readers. Arin will not survive eviction this week due to the vote margin.
However, it will be a night of suspense as we are not exactly sure who will be evicted between Princess, Nini and Tega as the margin of votes is too slim to decide through our online poll.
Let us know what you think about the result in the comment box below.