Big Brother Mzansi (BBMzansi) 2024 Audition Application form Requirement and Guideline
Big Brother Mzansi season 4 is here. The new season of Big Brother Titans will feature housemates from South Africa. Auditioning for housemates is currently on and will run from October 11th to October 27th, 2023. Interested applicants should follow the guidelines listed below before applying to become a housemate. Only successful applicants will be contacted for the next phase of the audition process.
Here are the guidelines. Please read thoroughly.
Eligibility/Requirements for BBMzansi Audition
If you are selected by the Producers for the next phase of the auditions, you must avail yourself for a possible video interview.
If you are selected for the next phase, you will be contacted via email. Make sure your email address is correct and check your email to see if you qualify.
You must be willing to live in the Big Brother house regardless of where it may be located; with approximately a dozen or more strangers where you will have little or no privacy.
If you are chosen to live in the house, it is your responsibility to make any necessary arrangements with your employer and family in anticipation of your extended absence.
The house is extensively outfitted with video and audio recording devices which will record, broadcast and exhibit your actions and voice at all times, twenty-four (24) hours a day, seven (7) days a week in every room and space in the house for the duration of your participation in the contest. You will be observed at all times by the Producers as well as the general public watching on television, the Internet, mobile devices and any and all other media.
One participant will receive the grand prize (subject to change at the Producers' and/or the Broadcaster's discretion).
Other Requirements
You must be at least 21 years of age by 1st January, 2024.
Physical auditions will take place between 01 -20 November 2023.
You must be a South African citizen or permanent resident of South Africa as of 1st of January, 2024 and in possession of a valid identity document.
You must be in excellent physical and mental health.
If you are selected to be interviewed, you may be given, and must complete and return (prior to the date of your personal interview), any further application materials (including but not limited to additional psychological and health questionnaires), or documents (such as your birth certificate, passport, and/or other identification) as well as a Medical History form.
If selected as you may be required to sign Agreement & Release, Confidentiality agreement (including those for your immediate family members), caretaker agreement; undergo psychological and medical assessments (including blood and urine tests and other additional information as required by Producers.
You must also submit to physical and psychological examinations by Producers' selected medical professional(s) in Lagos and meet all physical and psychological requirements.
By applying for participation in Big Brother, you authorize the Producers to conduct civil, criminal, and any other type of background checks deemed necessary by the Producers. Employees, officers, directors and agents of the Broadcaster, Producers and any sponsor of the Program or a contest or prize related thereto, and/or any of their respective licensees, assigns, parents, affiliated and subsidiary companies and the immediate family (spouse, mother, father, sister, brother, daughter or son, regardless of where they live) or members of their same households (whether related or not) of such employees, officers, directors and agents are not eligible to be participants on Big Brother or participate in the application process.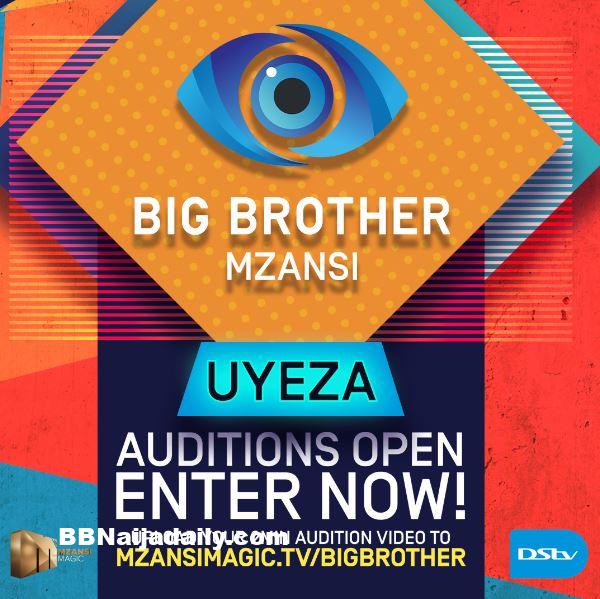 Tips For Video Recording Submission Guidelines:
Follow the simple steps below to apply for the Big Brother auditions:
Make a video of yourself and save it on your computer or mobile device before starting your application.
Submit your video for assessment.
Video Overview
This is your casting video and must strictly adhere to the following guidelines:
Big Brother Producers are looking for a dynamic group of individuals who are articulate, interesting and exhibit enthusiasm for the project as well as a willingness to share their most private thoughts in an open forum of strangers. This group of individuals, while meeting the technical requirements of the program, must also have sufficient physical, psychological, and mental capacity to endure approximately 100 days in a monitored house under extraordinary conditions.
Video must be maximum 3 minutes in length.
The maximum 3-minute video should end with you completing the sentence "I would make a perfect housemate because..."
Video must contain your Name, E-mail and Phone Number clearly stated.
Avoid all forms of filters, special video effects, copyrighted music and background music.
Video Tips:
Be yourself! We want to get to know who you are as a person. How will your life experience help you win Big Brother? How will you interact with the other housemates? When describing yourself, remember to cite real life examples. We love a good story!
Making a casting video is not about putting together the best skit or wearing the wackiest costumes. We're looking for real people and we want to see the real you.
If you come from a unique region or area of the country, talk about where you're from, how it's a part of your personality, or how it may help you do well on Big Brother. If you have an interesting job, talk about your job and how those skills may help you win the show.
Hold camera steady.
If shooting indoors, make sure to shoot in a well-lit room with lights in front of you to light your face.
Shoot during the day so we can see you instead of trying to see you in the dark.
Speak loudly and clearly.
Find a relatively quiet area to shoot your video so ambient noises won't distract from what you're saying.
Your video may be shown on a TV. Please shoot your video like you would see it on a TV. Please shoot landscape (horizontal) and not portrait (vertical) style.
If you are selected for an interview, you will be advised so by the Producers shortly before the interview is scheduled. If you are selected to participate in the final selection process, you will be so advised by the Producers shortly before the final selection process is scheduled.
Producers reserve the right to change the terms of the application and the production schedule at any time. Producers reserve the right to change the eligibility requirements and any other application rules in their sole discretion at any time with or without notice on a specific, case-by-case basis or across the entire applicant pool. Producers also reserve the right to not hold any participant applicant interviews, or to modify the manner in which they conduct participant applicant interviews, or to not produce the program Big Brother at all.
Information Needed
Here is the information you need to have at hand before filling the form.
Surname
First Name
Other Name
Nickname
Preferred Big Brother Nickname
Gender
Email
Phone Number
Hobbies
Occupation
Date of Birth
Country of Residence
Relationship Status
Next of Kin
Relationship to the next of kin
Phone number of next of kin
Confidant/Best Friend
Phone number of Best Friend
Other Family Member
Relationship to Family Member
Phone number of Family Member
Other Confidant/Close Friend
Phone number of Close Friend
Means of Identification (ID/Password) (e.g. passport/id/drivers license)
Identification Number
A photo of yourself (Up to 20Mb)
Photo of identification (e.g. passport/id/drivers license) (Up to 30Mb)
3 minutes video of yourself
(Please ensure that all contact numbers provided are active. Inactive contact may automatically nullify your application. Also, ensure that contact addresses provided are up-to-date).
How to Apply for Big Brother Mzansi Audition 2024
Interested applicants should click on the link below to apply. Note that application form is free South Africa and Nigerian Citizens.
Closing Date
The Big Brother Titan application form is available for a two weeks duration and will close on 27th October, 2023.
Some facts you need to know about Big Brother Mzansi
What is the entry criteria for people who wish to participate on the show?
If you are a citizen/legal resident of South Africa and 21 years of age or older (as of 01 January 2024), then you can audition for the show. The show's selection team is looking for housemates who are fun-loving, creative, original and articulate as well as housemates who are tolerant of views and lifestyle choices other than their own.
Are there any restrictions on entry (example: individuals with disabilities/individuals without a matric certificate)?
Outside of the requirements listed above, there are no restrictions on entry for Big Brother Mzansi 4.
On what days/dates will auditions for Big Brother Mzansi 4 be held?
Auditions will take place between 01 -20 November 2023. These will be conducted in phases including a video call and if they are successful, they will come to Johannesburg for the face-to-face auditions.
Is there a registration fee for Big Brother Mzansi 2 auditions? Will I have to pay to have my entry processed?
No. There is no payment involved to audition for the show. Entry is free, though you will naturally be responsible for any costs incurred in getting yourself to and from the audition venue.
Must I enter Big Brother Mzansi 4 as an individual or can I enter with a partner?
For Big Brother Mzansi 4, entries are for individuals only.
Are former Big Brother Africa or Big Brother Mzansi housemates allowed to enter the show?
No, former housemates of either Big Brother Africa or Big Brother Mzansi 2 are not allowed to enter Big Brother Mzansi 4. This season of the show is calling for fresh entries in order to find new housemates.
How long will Big Brother Mzansi 4 run for?
Big Brother Mzansi starts on Sunday 21 January 2024 and will run until the Finale on 31 March 2024.
What is the prize on Big Brother Mzansi?
The prize offered on Big Brother Mzansi won't be less than R 1 million, and it could be as high as a mouth-watering R2 million! That's all Biggie is saying for now. In line with South African law, this prize will be subject to taxation by the relevant authorities.
What is the production company that will be producing Big Brother Mzansi 4?
Red Pepper will be the producers of Big Brother Mzansi 4.
Why has Mzansi Magic decided to create a new season of Big Brother Mzansi?
Given the success of the previous edition of Big Brother Mzansi, Mzansi Magic channel is now creating season 4 of the show. It is important to note though that the choice to participate and the choice to view Big Brother Mzansi is an individual one.
Will Big Brother Mzansi promote social awareness for key issues facing South Africans today (employment, literacy, poverty)?
Big Brother Mzansi was created, first and foremost, as an entertainment offering. However, as responsible corporate citizens both M-Net and the production company are aware of the power of the show's platform and, as they have done in previous seasons, will use it to highlight social causes pertinent to its viewers where possible and relevant within the context of the show.
Where is the Big Brother Mzansi house?
The Big Brother Mzansi house is situated at an access controlled Studio facility in Johannesburg.
How big is the House?
The House has a large living space and two communal bedrooms and is attached to a garden. It also has one large open plan kitchen area, plus a bathroom, toilet, diary room and storeroom. As there are only two communal bedrooms, housemates will have to share. However, the House may have sections incorporated into it that Big Brother may choose to reveal at his discretion.
Is the entire Big Brother house covered by cameras?
Yes, the entire Big Brother house is covered by cameras. There is also a camera in the toilet but footage from this camera will only be screened if the housemates are using the toilet for a purpose other than that for which it was designed (example: to meet and discuss other housemates).
How many housemates will be in the Big Brother Mzansi 4 house?
To find out how many housemates will be participating in Big Brother Mzansi 4, viewers must tune in to the launch show.
Will housemates on Big Brother Mzansi be restricted to speaking English only?
South Africa has 11 official languages, however, housemates on Big Brother Mzansi are required to communicate only in English.
Will the other housemates on the show, who do not win, take any prizes home?
At this time, Big Brother Mzansi is a winner takes all format and only the winner, as voted for by television audiences.
Are Big Brother Mzansi housemates paid for their appearance on the show?
No, housemates are not paid to appear on the show.
Are there rules that housemates must follow on Big Brother Mzansi 4 and if yes, what are these?
Yes, Big Brother Mzansi 4 housemates are expected to abide by the rules of the house. There are several rules governing their stay in the Big Brother house and among the most important rules is the rule strictly prohibiting violence in the Big Brother house. Any housemates who is violent and/or provokes violence in the Big Brother house will be immediately disqualified from the show. Big Brother Mzansi 4 housemates will have access to the Big Brother Mzansi house rules at all times.
Will the housemates of Big Brother Mzansi 4 be restricted from accessing their computers, telephones, the Internet and other information services/devices during their time in the house?
The Big Brother show is built on the premise that housemates live in isolation within the Big Brother house and have little to no contact with the outside world during their participation on the show.
Will Housemates be allowed to have any contact at all with their families' e.g. written correspondence?
No verbal or written communication is allowed with anyone outside the House, unless a Housemate has an urgent family crisis and this is still subject to Big Brother's discretion. Producers may choose, at their discretion, to allow contact for task and / or rewards purposes.
What happens if a Housemate falls ill while in the house?
In the event of a Housemate becoming ill, they will be given first aid or may have a nurse or doctor called in to attend to them. If their condition is serious, they will be admitted to a hospital accompanied by a member of the production staff and security personnel as it is strictly within the conditions of Big Brother to maintain minimal contact with the outside world. However, should their illness mean that they have to be away from the house for a long period, it is unlikely that Big Brother will allow them to return.
What kind of tasks will be assigned to the Housemates?
All tasks are reasonable and involve team play. They are for Big Brother to know and for Housemates to find out, but Housemates will never be asked to perform anything outside acceptable ethical and moral standards.
How do the Housemates get food provisions in the house?
Housemates are given a healthy daily allowance of basic foods. This diet includes vegetables, carbohydrates such as rice and maize meal, meat, poultry and fruit. Anything outside these foods is regarded as a luxury item and may be ordered from a special shopping list provided by Big Brother. Their luxury allowance budget is directly linked to their performances in their Task. All meals in the house will have to be negotiated and agreed with by the other housemates.
Are Housemates allowed to leave the Big Brother house if it gets too much?
Housemates are free to leave at any stage during the process, on the understanding that they cannot return and may be replaced by someone else. A minimum of 24 hours' notice is requested by Big Brother to make departure arrangements. Housemates will be obliged to provide a reason for their exit to Big Brother in the diary room. Housemates requesting a voluntary exit would also need to explain to their fellow housemates and the viewers' why they have decided to leave the Big Brother game.
Are Housemates locked into the Big Brother house?
Yes, all doors to the outside are locked, but housemates are free to leave at any stage as long as they explain why and understand that once out of the House they cannot return. In the event of an emergency Big Brother can open the doors at a moment's notice.
Will Housemates be allowed to practice their religion?
It is one of the prerequisites of joining the house that all members are tolerant, and any practices housemates wish to follow will be tolerated.
Will Housemates see anyone else apart from their fellow housemates during their stay in the Big Brother house?
Housemates will not see anyone else except for a psychologist, doctor or dentist should they request or require one. In certain instances, housemates may be asked to entertain or host a special guest.
Can Housemates buy stuff while in the house?
Housemates can only influence the group as to how they all should spend a communal budget. No individual purchases are allowed.
What is the policy that will be employed when it comes to nudity on Big Brother Mzansi?
Big Brother Mzansi has a PG 18 rating and is aired 24 / 7 with the intention of covering all housemates' activities, all the time. Housemates will be filmed at all times, whether in the nude or fully clothed, and this footage may be screened and/or streamed online. Housemates are free to be nude whilst in the house, as long as their actions do not infringe on the rights of the other housemates and cannot be deemed as sexual harassment in anyway. What is aired is at the discretion of the producers, who ensure that all coverage is in line with the standards of the BCCSA and do not infringe on the rights of any of the housemates.
Who is Big Brother?
Nobody knows, but he sets the rules for the house and housemates will want to be on his good side at all times whilst staying in the house.