The Big Brother Naija house was formally located in South Africa where season 1 and season two of the reality show was held. The season one (1) of the show was launched on March 5, 2006 and ended on June 4, 2006 the first edition of the Big Brother Naija reality show was won by Katung Aduwak. It took almost 11 years for the season two (2) of the show to commence. The season 2 started on January 22, 2017 and ended on April 9, 2017.
The second edition of the show was won by Efe Ejeba. The first two seasons was held at the Big Brother house in South Africa. This prompted a lot of reactions from viewers stating that a show meant for Nigerians ought not to be held outside the country. Amidst this reactions, Big Brother House was relocated to Lagos Nigeria in 2018 where the third and fourth seasons was held.
Speaking on why Multichoice decided to bring the show to Nigeria; the Chief Customer Officer of Multichoice, Martin Mabutho, has this to say:
"It made sense that we bring it here. The first one we did was See Gobe, and Double Wahala last year eclipsed See Gobe. It was completely flawless. Now at that state we said there's no doubt that bringing the show to Nigeria would be the right decision. It would be worth the investment and it's exciting for us. Corporate Nigeria and sponsors have latched onto it in a big way so in my view, it's going to be bigger than all the shows we have ever done."
The Big Brother Naija season Three (3) started on January 28, 2018 and ended on April 22, 2018. It was won by Miracle Igbokwe. The season four (4) of the reality show started on June 30th to October 6th, 2018 and was won by Mercy Eke. The delay in the commencement of the season reality show was because of the General elections held across the country.
Where is Big Brother Naija House Located/Address?
The Big Brother Naija House was moved from South Africa to Lagos Nigeria in 2018 where the 3rd and the 4th editions of the show were held. However, the question is "where is the Big Brother Naija house located in Lagos?"
Details of the current location/address of the Big Brother Naija house have not been made public. However, findings from our research suggest that the Big Brother Naija house is located somewhere in Ilupeju town, Lagos close to DSTV office
We also created a survey on this question on Twitter. Here are the responses we received.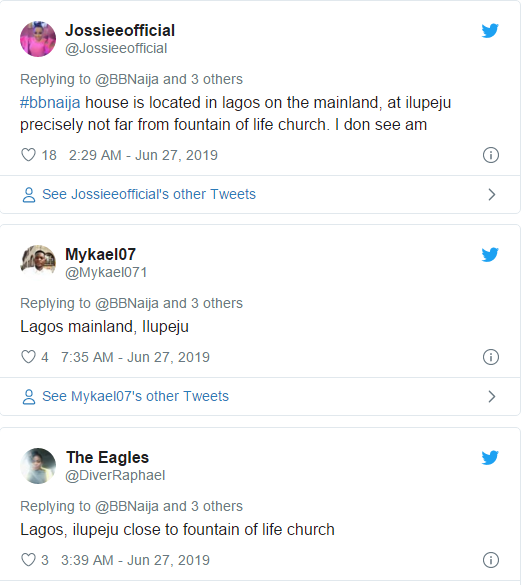 Here are photos of Big Brother Naija house located at Ilupeju, Lagos