Ilebaye Wins BBNaija 2023 All Stars Season 8 Show
Ilebaye Wins BBNaija 2023 All Stars Season 8 Show
"Dynamite may come in small packages, and that certainly holds true for Ilebaye, the Gen Z Baddie and reigning queen of the Baye Tribe, who has emerged as Nigeria's latest multi-millionaire by clinching the title of Big Brother Naija All Stars winner.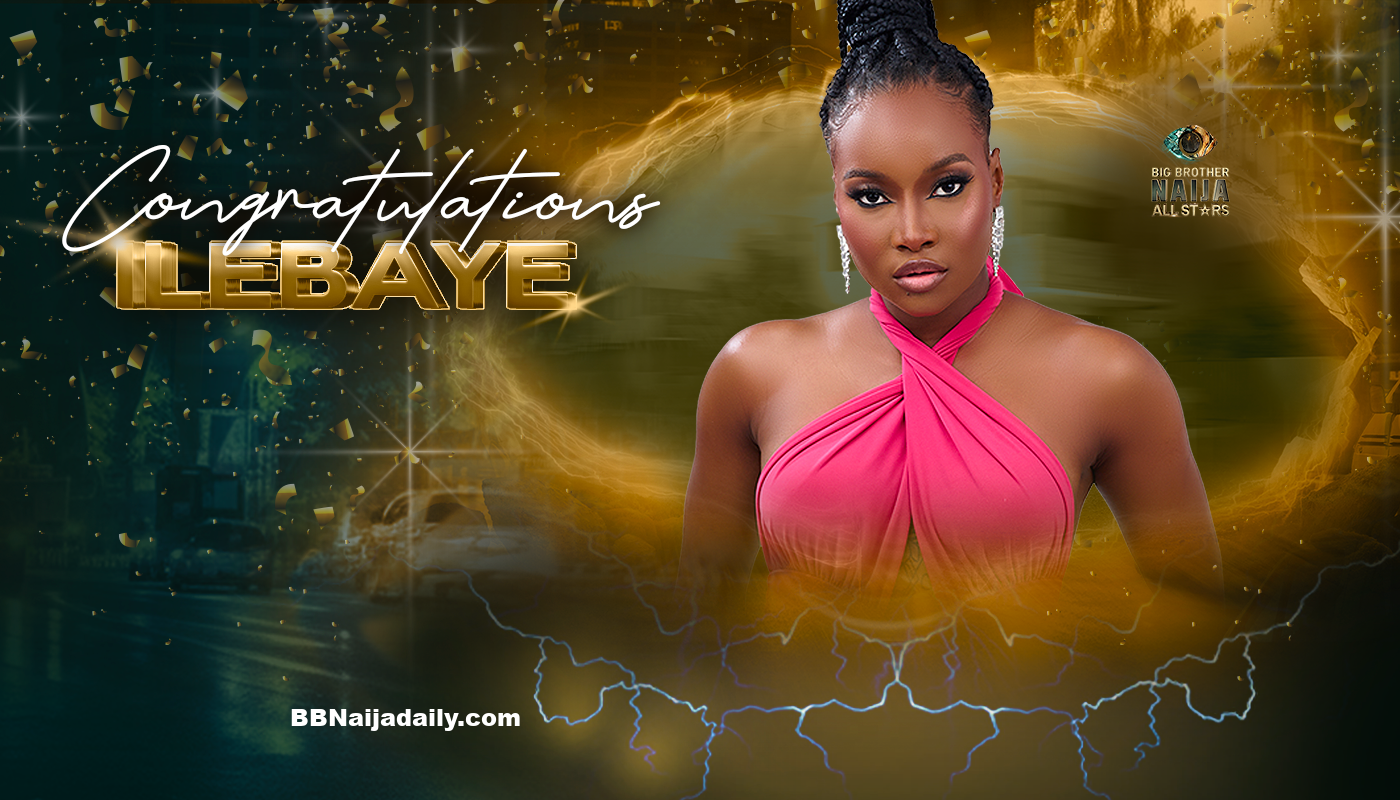 In addition to the grand prize of 120 million Naira in cash, Ilebaye is walking away with a spectacular array of rewards, including
a weekend getaway for two courtesy of Travel Beta
Innoson car,
Techno phone
Nexus appliances
a one-year supply of products from Pepsi, Dano, Munch It, WAW, Hawaii Soap, Titus, Lush, and Sardine.
"I'm utterly surprised, truly surprised," she exclaimed when asked about making it to the top 2 before being declared the season's victor.
For the first time in the history of Big Brother Naija, with a cast of 20 All Stars, the final showdown featured an all-female top 3: Ceec, Mercy Eke, and, of course, Ilebaye herself. The Gen Z Baddie appeared visibly nervous as she stood shoulder to shoulder with some of Big Brother Naija's most formidable personalities and all-time fan favorites, including Spartans leader Ceec and the self-proclaimed queen of highlights, and winner of Big Brother Pepper Dem, Mercy Eke aka Lambo.
The path to victory had not been easy for these ladies, as they had already eliminated their fellow finalists, Cross, Pere, and Adekunle, one by one.
Meanwhile, Ilebaye faced her share of challenges within the house, enduring occasional ridicule and teasing from her fellow housemates and shedding a few tears. She also found herself on thin ice for a significant portion of the season after receiving a double strike, which meant that one more strike would lead to her immediate eviction from the Big Brother house. All eyes were on her, and the male housemates even plotted to eliminate her due to her vulnerable position. However, she managed to keep her composure.
Ilebaye was taken aback when her All Stars ally, Doyin, did not select her as one of her BFFs when she assumed the role of head of the house. It wasn't until Big Brother's guest, Sholzy, became the head of the house that Ilebaye finally got her chance to experience the HoH mezzanine for the first time.
Two weeks before the season's end, Ilebaye solidified her status among her fellow housemates by becoming the third and final female All Star to assume the position of head of the house, propelling her straight into the finale.
It has been an incredible journey for the Gen Z Baddie, and as Omayemi Arawore, Creative Director at Moniepoint Nigeria, remarked during the live finale of Big Brother Naija All Stars, "Big Brother Naija is the biggest entertainment platform in Africa." This victory solidifies Ilebaye's position as one of Africa's brightest stars and the ultimate Big Brother Naija All Stars champion."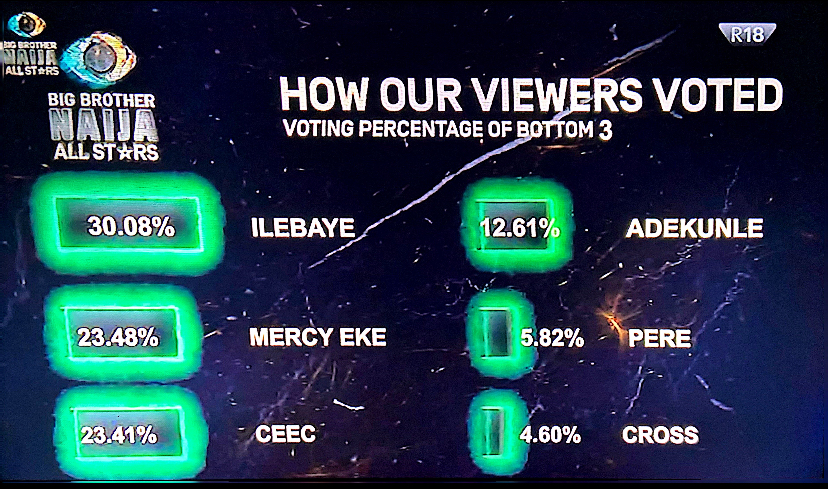 | SN | HOUSEMATES | RESULTS | REMARK |
| --- | --- | --- | --- |
| 1 | Ilebaye | 30.08% (percent) | |
| 2 | Mercy Eke | 23.48% (percent) | |
| 3 | Ceec | 23.41% (percent) | |
| 4 | Adekunle | 12.61% (percent) | |
| 5 | Pere | 5.82% (percent) | |
| 6 | Cross | 4.60% (percent) | |
Ilebaye's All Stars journey
Gen-Z baddie Ilebaye came on the show to explore and have 'fan'. This she did while overcoming challenges in a bid to make it to the finals.
Mercy Eke's All Stars journey
The queen of highlights and winner of the Pepper Dem season Mercy Eke came on the All Stars season with a fierce determination to prove that she is not just a one-time wonder while entertaining viewers with fun moments with her fellow All Stars.
Ceec's BBNaija All Stars journey
Coming back from a five year hiatus from the Biggieverse, Ceec's time in the All Stars house saw her bond with her fellow housemates while keeping heated moments to a bare minimum.
Adekunle's BBNaija All Stars journey
Coming from the heels of a whirlwind season, Adekunle jumped right into the All Stars season for a spot amongst the stars and for a space in Venita's heart.
Pere's All Stars journey
Pere had a rollercoaster ride in the house filled with heated moments, big wins, and emotional moments.
Cross' BBNaija All Stars journey
Cross' ride in the All Stars house was filled with many feel-good vibes and some emotionally charged moments ranging from questioning his friendship with Pere to an intense ship with Kim Oprah.