Iyke Profile & Biography (Ultimate Love Guest) | Age, Occupation and Photos
Iyke is one of the contestants/Housemates who put in for the first season of the Ultimate love reality show. In this Article, I will be revealing the following details about Iyke, Ultimate Love Show guest season 1 (2020).
Iyke Full Name

Iyke Age

Iyke Nationality

Iyke Place of Birth

Iyke Place of residence

Iyke Marital status

Iyke Occupation
The charismatic 25-year-old from Enugu State is clear on one thing; to find his ride-or-die. His orotund voice might be one of his best attributes but his lips top everything else.
Even though he is a words-of-affirmation type of guy, he believes his lips are a vital tool to getting a message across. He also believes that for a relationship to work, there must be clear gender roles. Let's just say he's all for mutual understanding.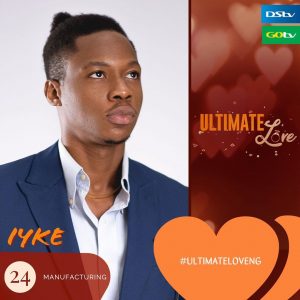 | | |
| --- | --- |
| Full Name | Ikenna Uri Tyler Nnama |
| Age | 25 years old (2021) |
| Sex | Male |
| Nationality | Nigerian |
| Place of Birth | Enugu State |
| Marital status | Single |
| Occupation | Manufacturing |
Iyke Ultimate Love Video