Jaypaul and Jakie B Wins BBNaija 2021 Week 6 Head of House Game
After the intense and shocking eviction of three housemates from the Big Brother Naija show last night, the housemates once again battle it out to win the Head of House game and gain immunity from nomination this week. 16 housemates participated in the Head of House game today. The incumbent Head of House Liquorose is not eligible to participate in today's game but will assist Big Brother in organizing and resetting the game. Pere is still serving his punishment and he is barred from today's game and from enjoying any head of house privileges for the week
Today's game was quite different from the previous ones which involves 35 steps that each housemate must complete within 60 seconds. Big Brother decided to change the game to make it quite interesting for the housemates. The head of house game and the nomination for this week was rolled into one. Two housemates will emerge winner of the head of house game, a male and female. Both housemates will be crowned winner of the game and will have exclusive access to the big brother lounge and gain immunity for the week. All remaining 15 housemates will be up for eviction for the week.
The Game
Today's obstacle was broken down into five challenges: Housemates were required to roll the dice to determine the number of drinks they must take first. The Secret Dessert, where Housemates were expected to chug a cup with milky substance and an egg in it. The Keys to Success – Housemates had to get into a smelly pool to search for at least two keys before moving to the slippery slide. This slide required Housemates to be on all fours to make it through. The final part of the challenge required the House to use only a straw, to take 2 draws of the liquid concoction and pour it into one of the beakers.
Today's game involves 5 challenges that each housemate must complete within 2mins, 30secs. Saga was the first housemate to start the challenge. He got to the pool challenge (3) where he is required to search for 2 keys among 40 keys which is placed in the pool with foul smell but he could not proceed above this challenge.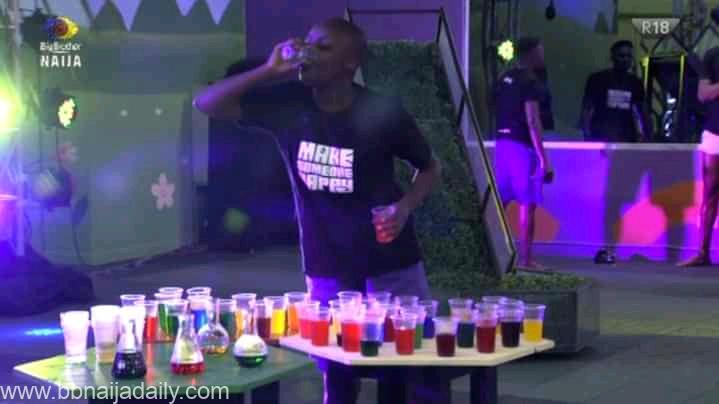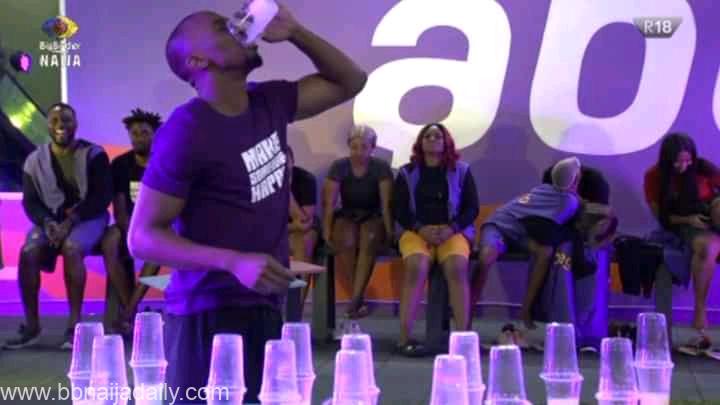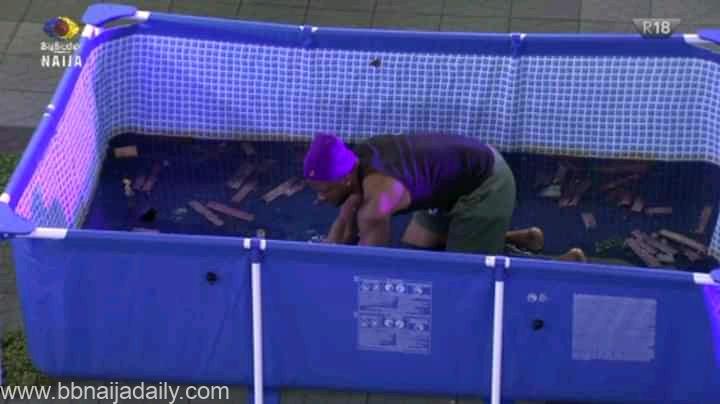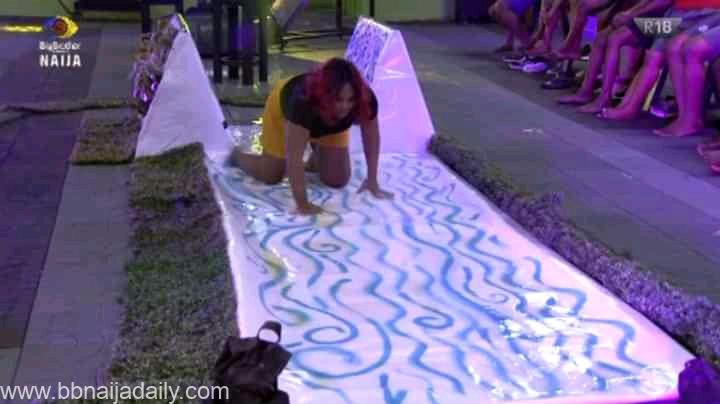 Peace, Yousef, Cross, Nini and Whitemoney got to the poll challenge and they found one key out of the two before they ran out of time.
Queen was able to find two Keys in the poll but luck was not on her side as she could not drop the key in the bucket provided by Big Brother before she ran out of time.
Six housemates completed the 5 challenges before time. The housemates are
Boma – 1 min 35secs.
Tega – 2 mins 16sec
Jackie B – 1 min 9 sec
Jaypaul- 1 min 12 sec
Saskay – 2 min 22 Sec
Angel – 2 min 21 sec
Jaypaul and Jackie B emerged winner of today's Head of House game as they completed the 5 challenges in the fastest time. They have gained immunity for the week and both of them will share the luxury of the Big Brother lounge. Congratulations to them.