Nigerian Idol Season 8 Audition Registration Form 2023 | Eligibility, Requirement, Application Website and Closing Date
The Nigerian idol is a Nigerian reality television series aimed at finding young talented people in Nigeria. Every Nigerian between the ages of 16 and 30 years is offered opportunity to partake in the TV shows which consist of just a singing competition.
Before the season 8 show begins, approximately 30 qualified Nigerians will be selected during the nationwide audition process to compete with one another by presenting their songs. The audition form is available from Saturday January 13 to Saturday January 28, 2023.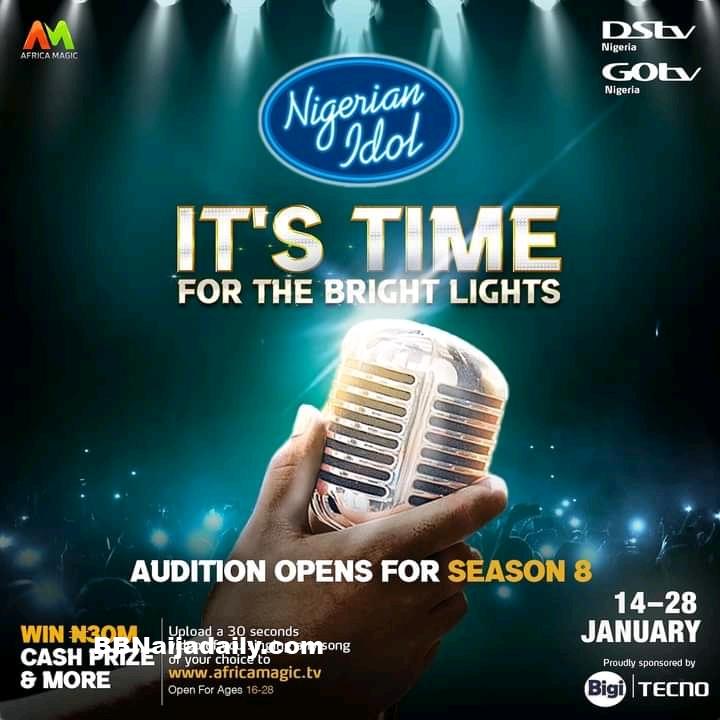 Nicely, not all are expected to go home with a price present, usually a voting mechanism has been implemented to reduce the contestant to around 10.
Only 10 participants will finally reach the final stage when Nigerians are asked, with votes that will be done on their cell phone, to decide their fate in the competition.
Nigerian Idol Prizes
You will be interested to know that anyone who ever wins the Nigerian Idol 2023 edition will be paid the following money and will be able to receive several gifts and support offers from top companies.
N30 million in cash,
Brand-new SUV, a Bigi-branded refrigerator
A year's supply of Bigi drinks.
Record an EP and a music video
A weekend holiday with TravelBeta
DStv Explora with a 12-month premium subscription.
Nigerian idol judges
The organizers of the Nigerian Idol participate every year with some well-known famous judges. The following individuals serve as judges in season 8 of the Nigerian Idol
Ikponmwosa "IK" Osakioduwa
Simi
Obi Asika
D'banj
Requirement/Eligibility for Nigerian Idol Season 8 Registration 2023
Age: like we have pointed before your age is an important factor they consider first before you will be allowed to Audition in the Nigerian idol. The minimum age entry is 16 while the maximum age limit is 30
Location: you must be resident in Nigeria before you will be able to apply. Nigerians living abroad aren't allowed to participate.
If you have a baby and he or she is above 5 years of age, you can register but the child should be left at home.
The application process is strictly online.
Those who have featured in past or previous Nigerian idol aren't allowed to participate in the 2021/2022 season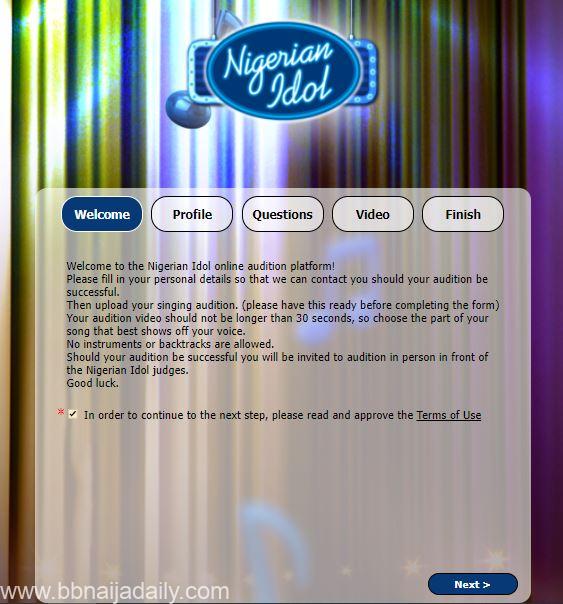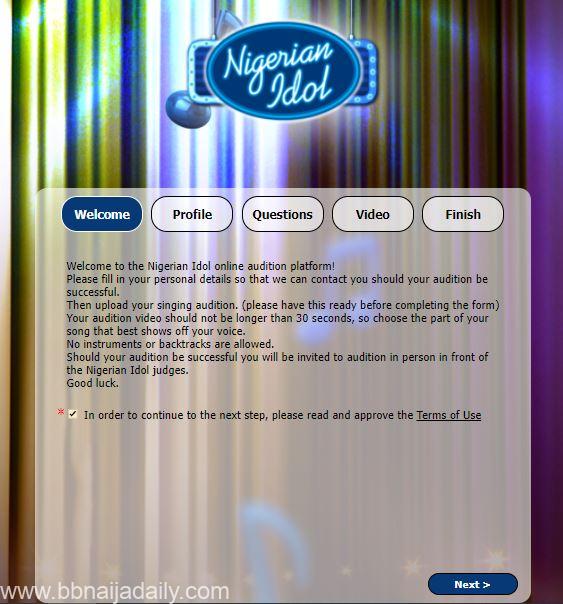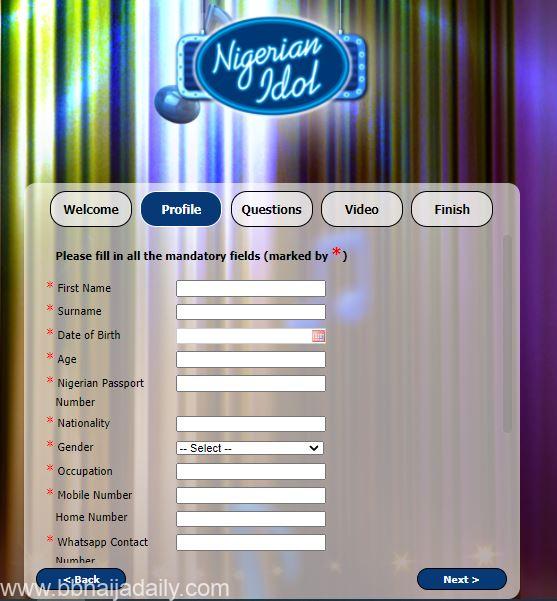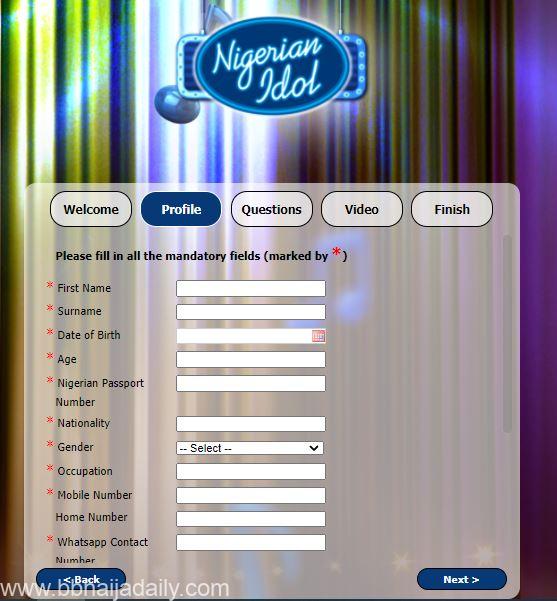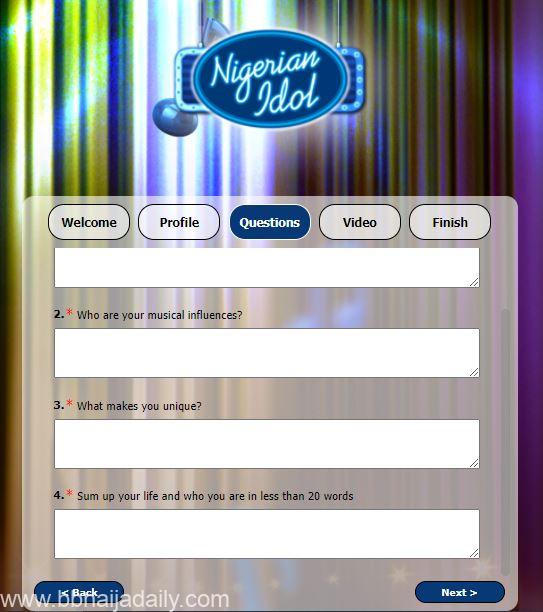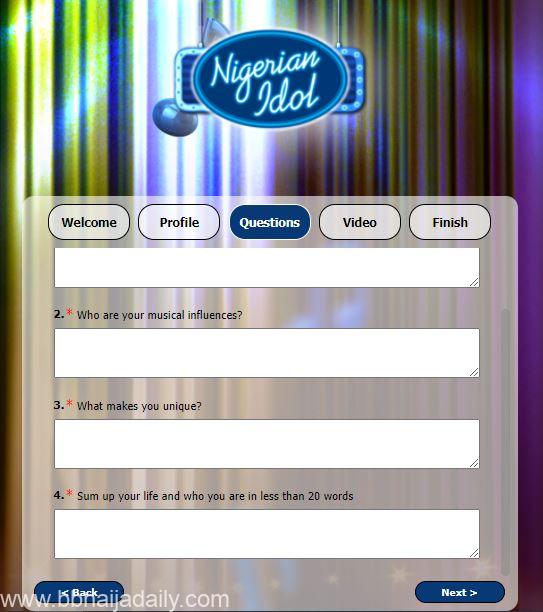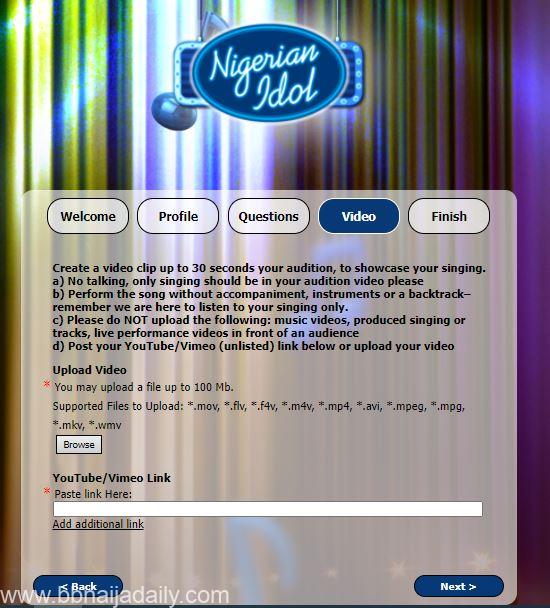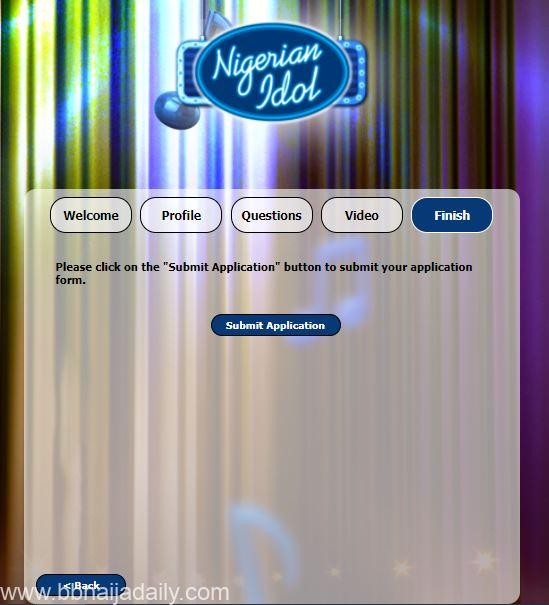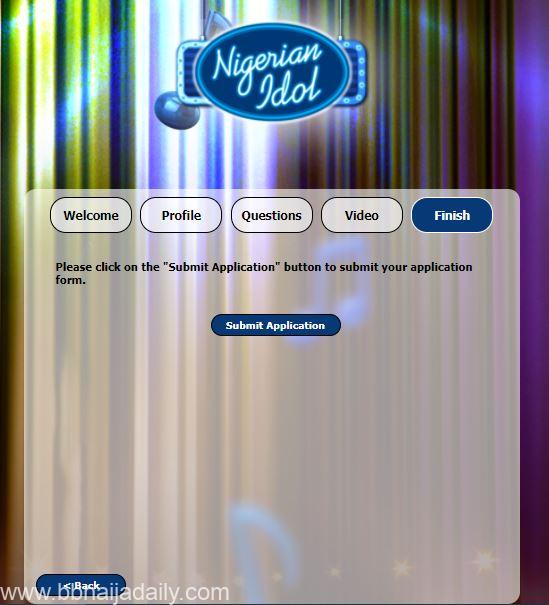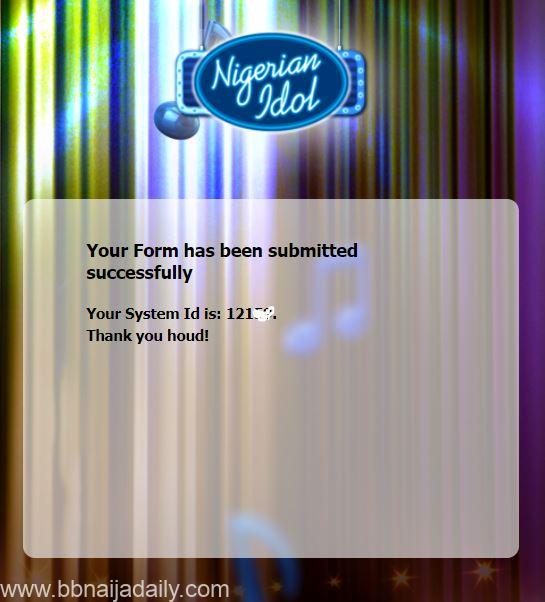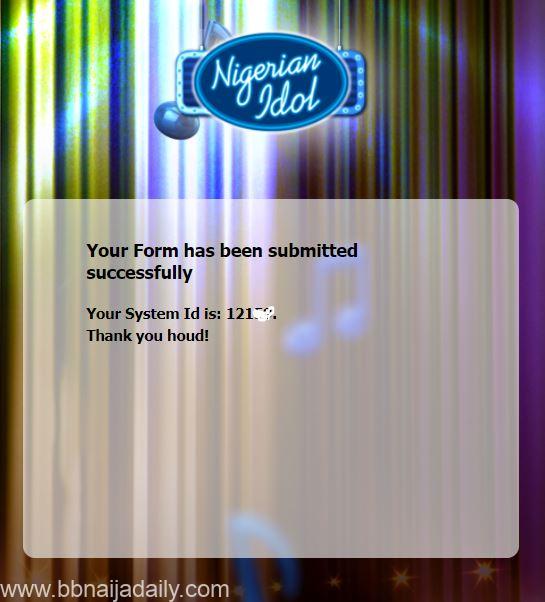 .
How to Apply
Nigerian Idol audition form for season 8 (2023) is available from January 13 – January 28, 2023.
Step 1: Click Here to apply
Step 2: Upload a 30 seconds video of you singing any song of your choice.
Step 3: Selected applicants will be contacted and invited for physical audition
The Nigerian Idol 2023 Form
These are the information you need to complete your form
First Name
Surname
Date of Birth
Age (16–30years)
Nigerian Passport Number
Nationality
Gender
Occupation
Mobile Number
Whatsapp Contact Number
Email
Retype your Email
Country
Current town
Address
Postal Code
Upload Head and Shoulders Image (Up to 20Mb)
Questions You Need to Answer
Please fill in all the mandatory fields (marked by *)
Why do you think you would make a great Idol?
Who are your musical influences?
What makes you unique?
Sum up your life and who you are in less than 20 words
Video Upload
You will be required to upload a 30 seconds video
Video Tips
Create a video clip up to 30 seconds for your audition, to showcase your singing.
No talking, only singing should be in your audition video please
Perform the song without accompaniment, instruments or a backtrack– remember we are here to listen to your singing only.
Please do NOT upload the following: music videos, produced singing or tracks, live performance videos in front of an audience
Post your YouTube/Vimeo (unlisted) link below or upload your video
Note: You may upload a file up to 100 Mb. Supported Files to Upload: .mov, .flv, .f4v, .m4v, .mp4, .avi, .mpeg, .mpg, .mkv, .wmv
Note: You will also need to upload your video on YouTube/Vimeo and copy the video link
6 Auditioning Tips for Nigerian Idol
This past season has highlighted the importance of Audition preparedness, we put together a few tips to help you get ready for your big moment.
Choose the right song
E no be a matter of 'most famous song' o, it's all about choosing a song you're comfortable with, and one that'll allow you to play around and show your vocal skills without folding. Like, are you comfortable singing the song? Do the notes cause you any breathing discomfort? Do you know the lyrics? So, it'd help to go through the song list and choose MORE THAN ONE to perfect. Got it? Good!
Exercise exercise exercise!
Now that you can spit the lyrics in your sleep, get down to business and align your vocals by doing some exercises. Think of this as a pre-Olympic ritual. There's a stretch before the act, yes? Just a few minutes before you start recording, do some vocal warm-ups and you'll be good to go.
Quality is everything
Great camera quality, amazing lighting, a fitting background and some kind of external noise cancellation. All these factors will play an important role in submitting a quality audition clip. Check these from your list and it may just be a 'yes'!
Be confident
No matter how aligned with your voice the chosen song is, the delivery won't have as much impact if you're not confident. In fact, eh, we heard through the grapevine that our judges can identify confidence in your singing. So do your mantras, meditate, or whatever rocks your 'voice'. Just get your mind right and your confidence at a high, before stepping into the spotlight.
Just have fun with it
Your eagerness to board the Nigerian Idol success train tells us that you're passionate about music and want to live your life rhythmically, yes? So, now that you've identified the strength in your voice, studied your songs and did a confidence mantra, you're ready to take the spotlight and are going to have fun while at it, right?! Remember, sha, this is an experience no one will take away from you, so make sure you bring your unicorns and rainbows.
Judge yourself first!
After putting everything together, wear the critics' cape and judge the entry for yourself. Ask yourself (or some friends/fam) if this'd blow your mind if you were a judge. If so, then you're good to go.
General Questions About Nigerian Idol
What is Nigerian Idol?
Nigerian Idol is a reality TV singing competition modelled after the popular Idols franchise. The concept of the show involves a group of unsigned singing talent who go through a thorough audition process to perform to a panel of vocal judges who critique their performances. The contestants advance through different stages in the competition until the eventual winner is determined by viewers and fans of the show via SMS, Website and Mobile voting.
What You Should Know About the Previous Edition of the Show
Who is the headline sponsor for Nigerian Idol Season 8?
Nigerian Idol Season 8 is proudly sponsored by BIGI Drinks and Binance Africa.
When and where did the auditions take place?
The audition form for Nigerian Idol Season 8 will be available online via the Africa Magic website from 14th November till 28th November 2022. It is open to both male and female aged 16 – 30 years of Nigerian Nationality.
What is the grand prize for the winner of Season 8?
This season's winner will walk away with a recording contract with a leading record label and 50 million Naira worth of prizes which include a cash prize and a brand new car.
Who are the Judges and the Host for this season?
Creative Industry Entrepreneur, Obi Asika, superstar DJ Sose, and singer/songwriter, Seyi Shay are Judges of this season while popular radio and TV on-air personality IK Osakioduwa is Host
Will there be a live audience present at the Nigerian Idol studio?
No. Nigerian Idol Season 8 will not be having a live audience during the show due to the ongoing pandemic. We will continue to practice social distancing and follow the safety guidelines put in place by the NCDC.
Where can I find further information regarding the show?
For more information, visit the Nigerian Idol website. You can also follow our verified @AfricaMagic handle on Facebook and Instagram to keep up with all the updates.
General Questions About Broadcast Details
Which channels will Nigeria Idol be available on?
The special two-week bonus content will air on DStv Channel 198 and GOtv Channel 29 while the pre-recorded episodes and live shows will air on AM Showcase (DStv channel 151), AM Urban (DStv channel 153) and AM Family (DStv channel 154 & GOtv channel 2).
Which DStv and GOtv packages will Nigerian Idol be available?
The show will be available on DStv Premium, Compact Plus, Compact, Confam and Yanga packages and on GOtv Max and Jolli packages only
Will I automatically have DStv channel 198/GOtv channel 29 to watch the bonus content?
Yes. With an active subscription on DStv Premium, Compact Plus, Compact, Confam and Yanga or GOtv Max and Jolli, channel 198 or 29 will automatically be available.
Do I need to pay extra to watch Nigerian Idol Season 8?
No. The show will be available to you at no extra cost. You only need to stay active, reconnect or subscribe to DStv Premium, Compact Plus, Compact, Confam and Yanga or GOtv Max and Jolli. You can visit www.dstvafrica.com or www.gotvafrica.com or contact your nearest MultiChoice office/branch. You can also download the MyDStv app and MyGOtv app available to iOS and Android users to sign up for auto-renewal and use other self-service options.
Will I be able to watch Nigerian Idol on DStv Padi or GOtv Jinja/Smallie?
No. Nigerian Idol will only be available to customers on DStv Premium, Compact Plus, Compact, Confam and Yanga packages and only to subscribers on GOtv Max and Jolli packages
Will I be able to view Nigerian Idol online via the DStv App?
Yes. Viewers can watch Nigerian Idol Season 8 via the DStv app on multiple devices at no additional cost. The app is available for download on iOS and Android devices.
Will I be able to catch the highlights on DStv Catch up?
Yes. Viewers will be able to watch the show on Catch Up, which is available to all DStv customers on Explora and the DStv app.
Is Nigerian Idol Season 8 going to be available on Showmax?
Nigerian Idol will also be available on online streaming device, Showmax, across Africa as well as in the United Kingdom, Australia and New Zealand. Premium customers enjoy a Showmax subscription at no extra cost as part of DStv Thanks reward programme whilst other customers get Showmax at half the price. Visit www.showmax.com to sign up!
Questions About Voting Process
When does voting start on the show?
Voting on Nigerian Idol begins during the live shows at the top 10 stage.
On what platforms will voting take place?
Voting takes place on SMS, Mobile, Web and the MyDStv/MyGOtv App. To be eligible to vote for your favourite contestant, you'll need to register on the Africa Magic website – africamagic.tv/nigerianidol.