Ozo serves Nengi special breakfast in bed
It was another couple's goal moment as Ozo was spotted serving his queen Nengi special breakfast in bed.
Ozo went to Nengi's bed very early in the morning today, August 18 while she was still deeply asleep, only for her to rise to her Mr. handsome holding out breakfast right to her face. "Good morning, how was your night?", he greeted and asked.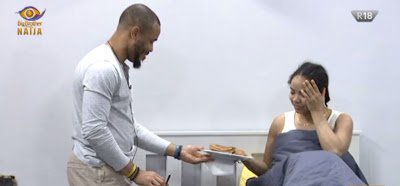 Nengi stretched out her hands and collected her freshly served breakfast.
Ozo wasted no time as he quickly took his leave while Nengi smiled and stared into the doorway as he walked away.
Even as there are obstacles and issues between both housemates, they are keen on getting something out of the relationship
See video below:
https://twitter.com/ItsprettyO/status/1295658379646504960