Team Giveaways Wins BBNaija 2021 Abeg Friday Task
Tonight, the Housemates got together to make someone happy.
Keeping one's mental health in good shape is crucial to one's overall health. It aids in the improvement of one's quality of life and is good to everyone's general well-being.
Every person's mental well-being, regardless of the circumstances surrounding them, cannot be jeopardized at any point in their lives.
The first part
For this week's Friday Night Abeg Task, the #BBNaija Housemates had to work together to produce a strong and evocative campaign to raise awareness about mental health among viewers and the general public. The campaign has to emphasize the need of maintaining a healthy mental state and might include topics like depression, suicide, anxiety, bipolar and borderline personality disorders, and so on.
They may use any form or genre of art to convey their messages, but they had to include songs and poems in their campaign. They were given research materials and six hours to construct their campaign and prepare for their Arena presentation.
The performance
All afternoon, the Housemates prepared and rehearsed, utilizing all of the resources available to them. The Housemates delivered poem-like stories and statements during the presentation, which were encouraging because they all led to giving advise on how to seek treatment.
Yousef talked about growing up without a family and having social anxiety. Maria went into detail about schizophrenia. Liquorose also gave a long speech about other illnesses, such as PTSD. Pere discussed the realities of dealing with the disease after serving in the military.
Whitemoney, Michael, and Angel led the vocals, with the rest of the Housemates supporting them up. Some of the song's lyrics that jumped out throughout the performance were "Mental health is urgent o," "Mental health is real," and "Do not fool with the state of your head."
Jackie B and Tega opened up about their experiences with postpartum depression. They brought attention to the often-overlooked topic of pregnancy and childbirth's aftereffects. "It's true that postpartum depression exists. Their words of encouragement were, "If you don't speak up, you'll never heal."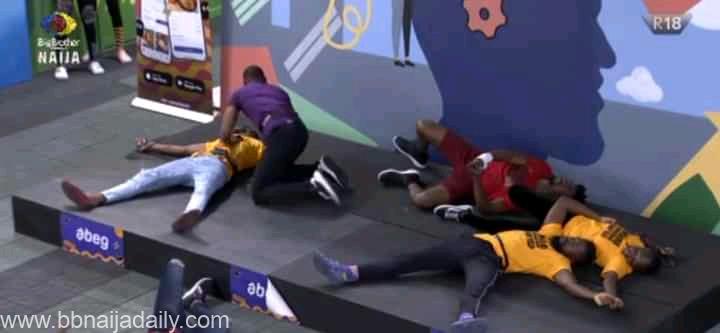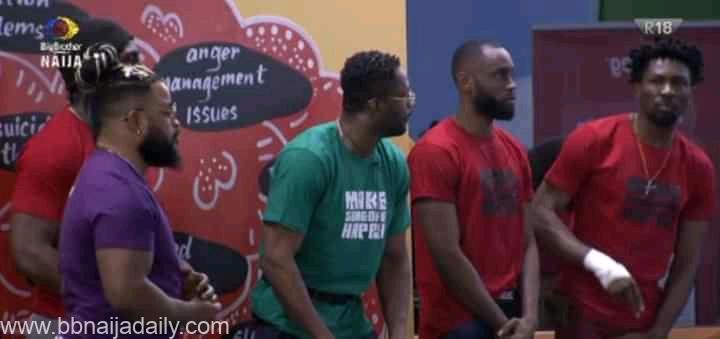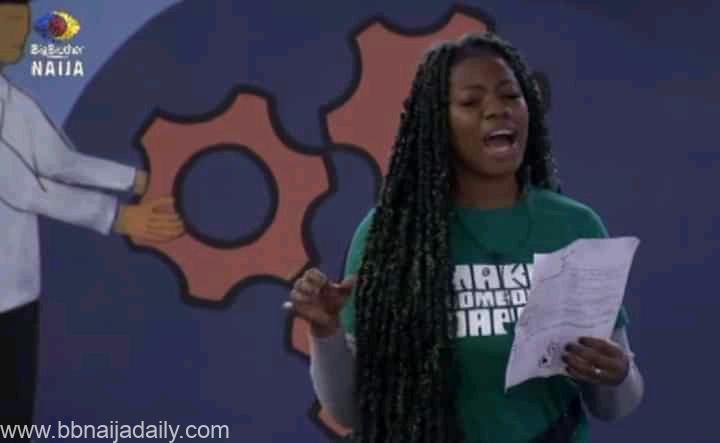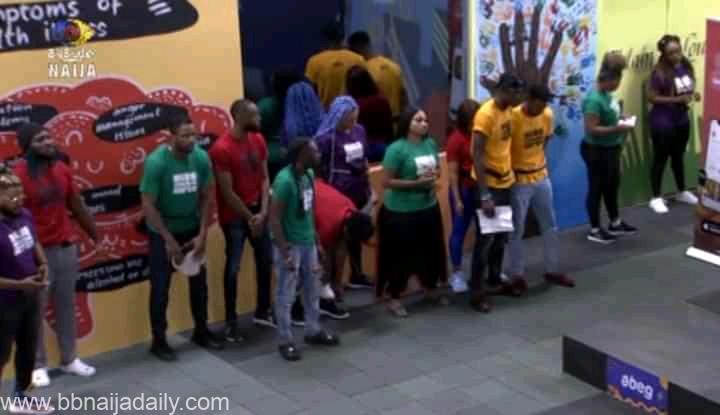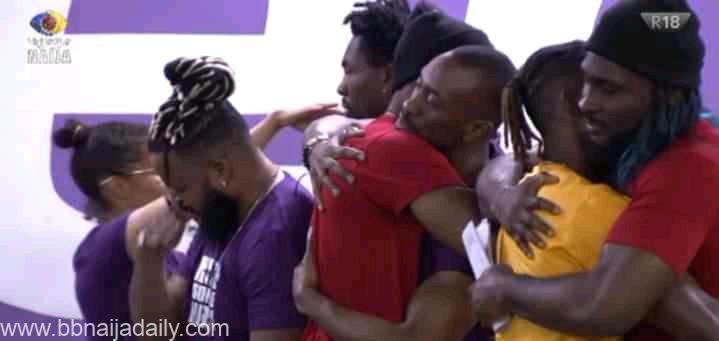 The Housemates broke down in tears as the performance came to a close. It appears that the practice and performance became too personal for them, and it took a toll on them. Biggie asked that they give each other hugs and always remember to be kind to one another, but most importantly, to themselves.
Result
For their efforts, each Housemate received 200 abeg naira.
The second part
The Housemates were given three hours to prepare and practice for this job. According to the color of their T-shirts, the House had to be separated into four groups. "Team Giveaways" was the name given to Team Green. "Team Send Money" was renamed from "Team Purple." "Team Smiles" was the name of the yellow team. "Team Badges" was the name of Team Red. There were financial rewards to be won in the Task, which was a competition amongst the teams.
Here are the teams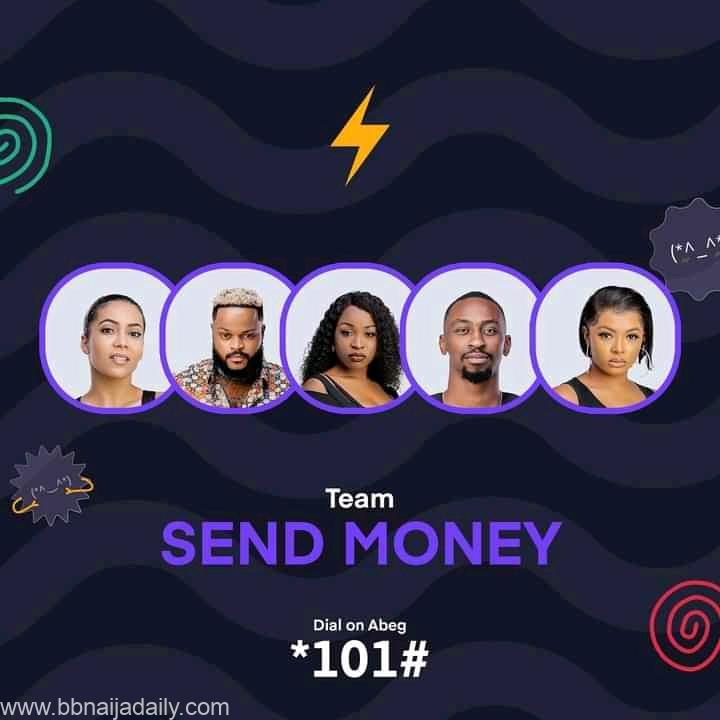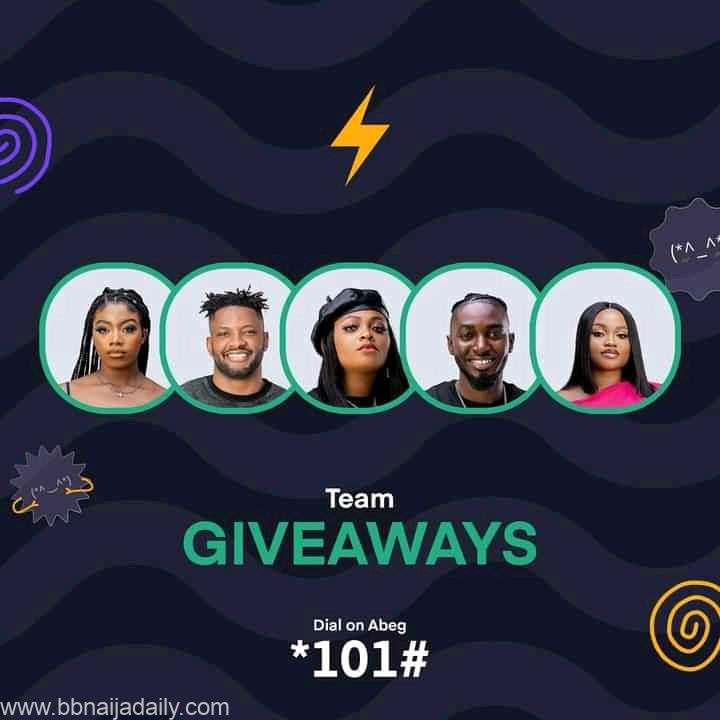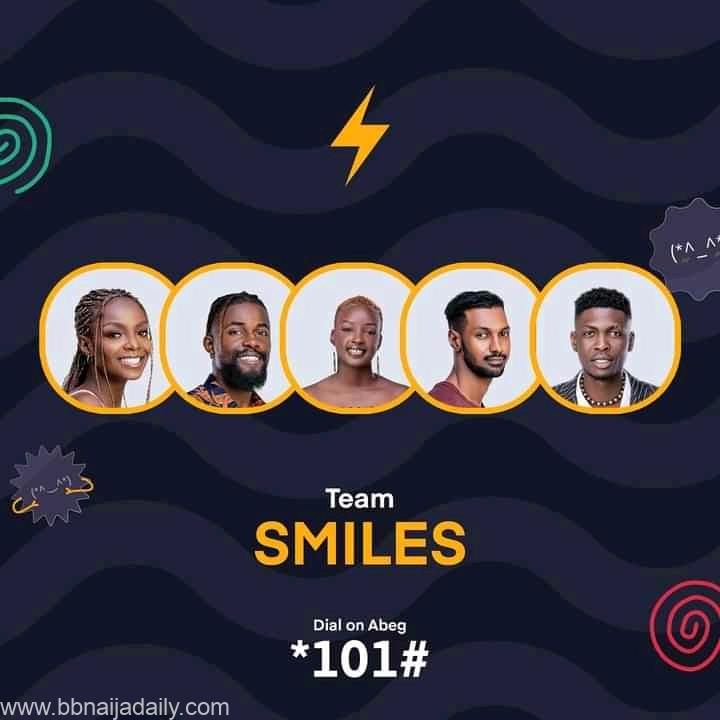 The Abeg jingle required each team to create a music video. The music video should ideally include drama and choreography to represent the jingle's lyrics. The Abeg jingle was played in the house on a regular basis. The Housemates were given the jingle's lyrics as well as a get-to-know-Abeg guidebook to help them prepare for the Task.
The performance
Each team brought their minds together to script and perform different scenes to the Abeg Jingle Team Giveaways with Tega, Cross, Angel, Jaypaul and JMK promised to bring the amapiano vibes to their music video. Team Send Money with Whitemoney, Liquorose, Maria, Saga and Jackie B crafted some fancy leg work for their music video. Team Badges with Pere, Boma, Emmanuel, Nini and Queen drew themselves out of the comfort zone by busting a few surprising moves. Team Smile brought a lot of energy to the Arena which matched their yellow t-shirts.
Winners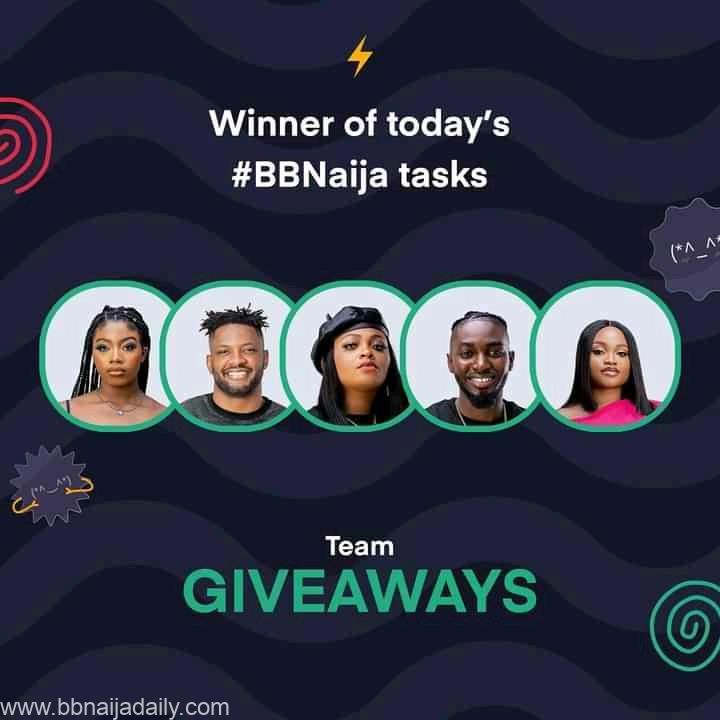 It was a tight competition, but the prizes were to be awarded according to ranking. Each team to win something tonight but Team Giveaways won the largest prize of N500 000 each.