ROKSIE Winner of Ultimate Love Show Season 1 (2020)
ROKSIE (Kachi and Rosie) leads in the polls on the final week of the Ultimate Love reality show. Result from the polls shows that the couple is ahead of every other couples in the love pad. ROKSIE has since grown to become viewers favourite following their subsequent nominations in previous week.
One of Roisie's qualities behind her being preferred by viewers as their favourite is that she is calm, tender and always willing to offer a shoulder for others to lean on.
Rosie who's is 35 started the show in a low note after she was heartbroken in the third week of the show. Rosie connected with David Wilson in the first two weeks of the show but was later left heartbroken after David chose Presh Talker over her. This left the Ogun state born with no other option than to connect with Kachi who on the other hand could not get anyone to connect with.
ROKSIE won in all the polls they have featured in undoubtedly making them viewers favourite. They were nominated for possible eviction in week 4, week 5, week 6 and week 7 which they emerged 1st position in all the polls.
On the other hand, IYKERESA (Iyke and Theresa) is currently the first runner up with the second highest number of votes.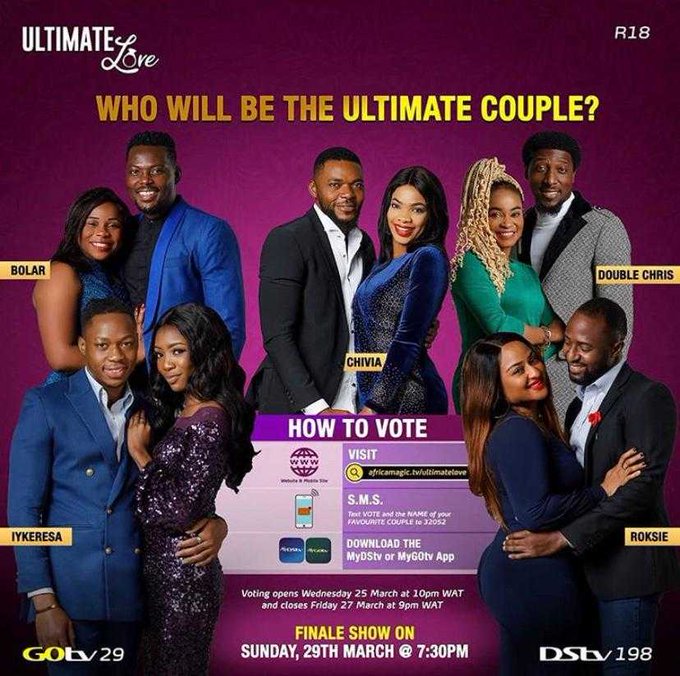 With the love and chemistry between this couple, can they lead in the polls all the way till Sunday grand finale live show?
Searches
Winner of Ultimate Love, Roksie winner of Ultimate love, Who won ultimate love, Kachi winner of Ultimate Love, Rosie winner of ultimate love, Rosie ultimate love age,