Blaqboi Wins BBTitans 2023 Week 9 Head of House Game
Blaqboi Wins BBTitans 2023 Week 9 Head of House Game
The housemates were up for another task of competing for immunity from nomination as they went into the arena for the Head of House game. The incumbent HoH Ipeleng was exempted from participating in the game. As usual, the winner of the HoH will be awarded immunity from nomination, exclusive access to the Big Brother lounge. There is no veto power save privilege attached to the HoH title this week.
The HoH game this week is in one phase. Housemates were required to participate in the game in turns. They were required to complete the task in 4 minutes and if no housemate completes the task within the allotted time, Ipeleng will retain the HoH title.
There were 50 paper cups stacked up on the table. Housemates were asked remove and place the 50 stacks of cups on each other within 4 minutes. The housemates who complete the task in the quickest time will be declared winner of the HoH game.
Here is how the housemates performed;
Result
Blaqboi – 1 min 02 sec
Ebubu – 1 min 44 sec
Miracle Op – 1 min 14 sec
Justin – 1 min 45 sec
Nana – 2 min 36 sec
Kanaga Jnr – 1 min 18 sec
Yvonne – 1 min 47 sec
Blue Aiva – 1 min 41 sec
Thabang – 1 min 25 sec
Tsatsii – 2 mins
Khosi – 1min 15 sec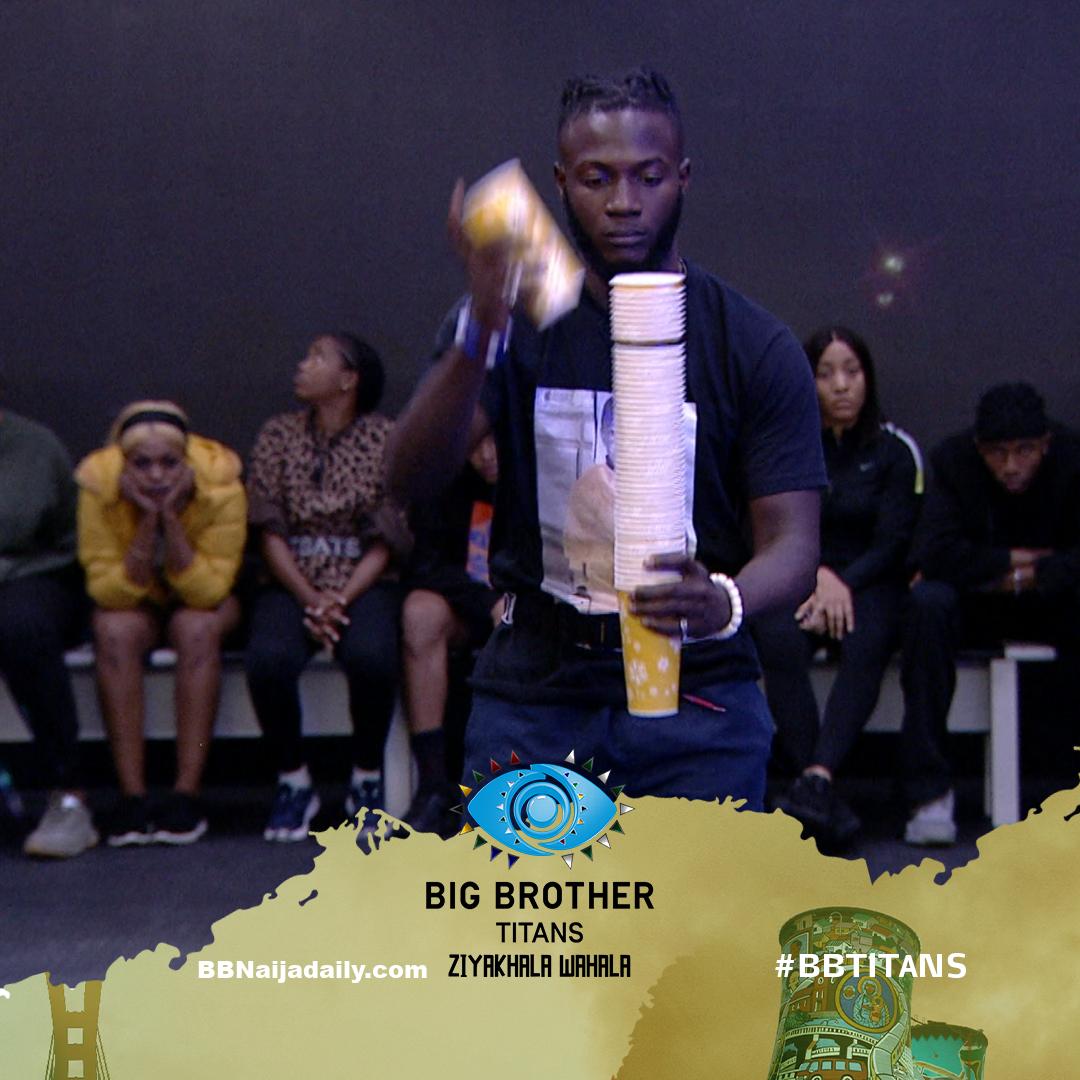 Blaqboi completed the task in 1 minute 2 seconds which is the quickest time and was declared winner of the head of house game this week. He has now won immunity from nomination and exclusive access to the Big Brother lounge. He picked Blue Aiva to share Big Brother lounge with him. Congratulations to him.
Tail of the Week
Nana had the worst performance of the week and was awarded the tail of the house title.