Result – Big Brother Mzansi 2022 Week 9 Nomination, Vote and Eviction – Thato, Sis Tamara and Terry Evicted
The Big Brother Mzansi has entered its nineth week and the remaining 8 housemates are starting to feel the tension following the eviction of two housemates (Venus and Nale) from the Big Brother house during the Sunday live eviction show for week 7. There was no nomination and eviction for week 8 as all housemates proceeded to week 9.
The head of house game this week was immerse as all housemates were required to play a game of "stack Em" where they were to stack miniature chairs. They are expected to have a steady tower of chairs in seven minutes. Themba stacked his chairs the highest and will remain the Head of House. He's also the Ultimate Veto Power holder. Congratulations to him.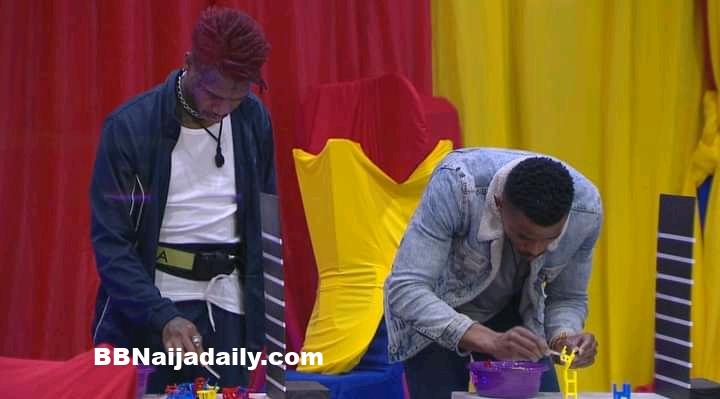 The Ultimate Veto power
Themba the Ultimate Veto Power Holder was given the privilege to nominate two housemates that will be joining him in the final. Each housemate had a one on one session with Themba to plead their case to join him in the final.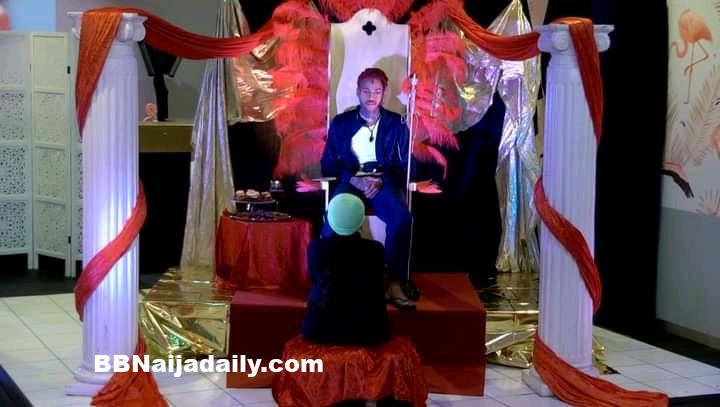 Themba made his final decision by revealing that he picked Libo and Tulz to go with him to the finale.
BBMzansi 2022 Housemates up for Eviction in Week 9
The final nominated housemates for possible eviction this Sunday are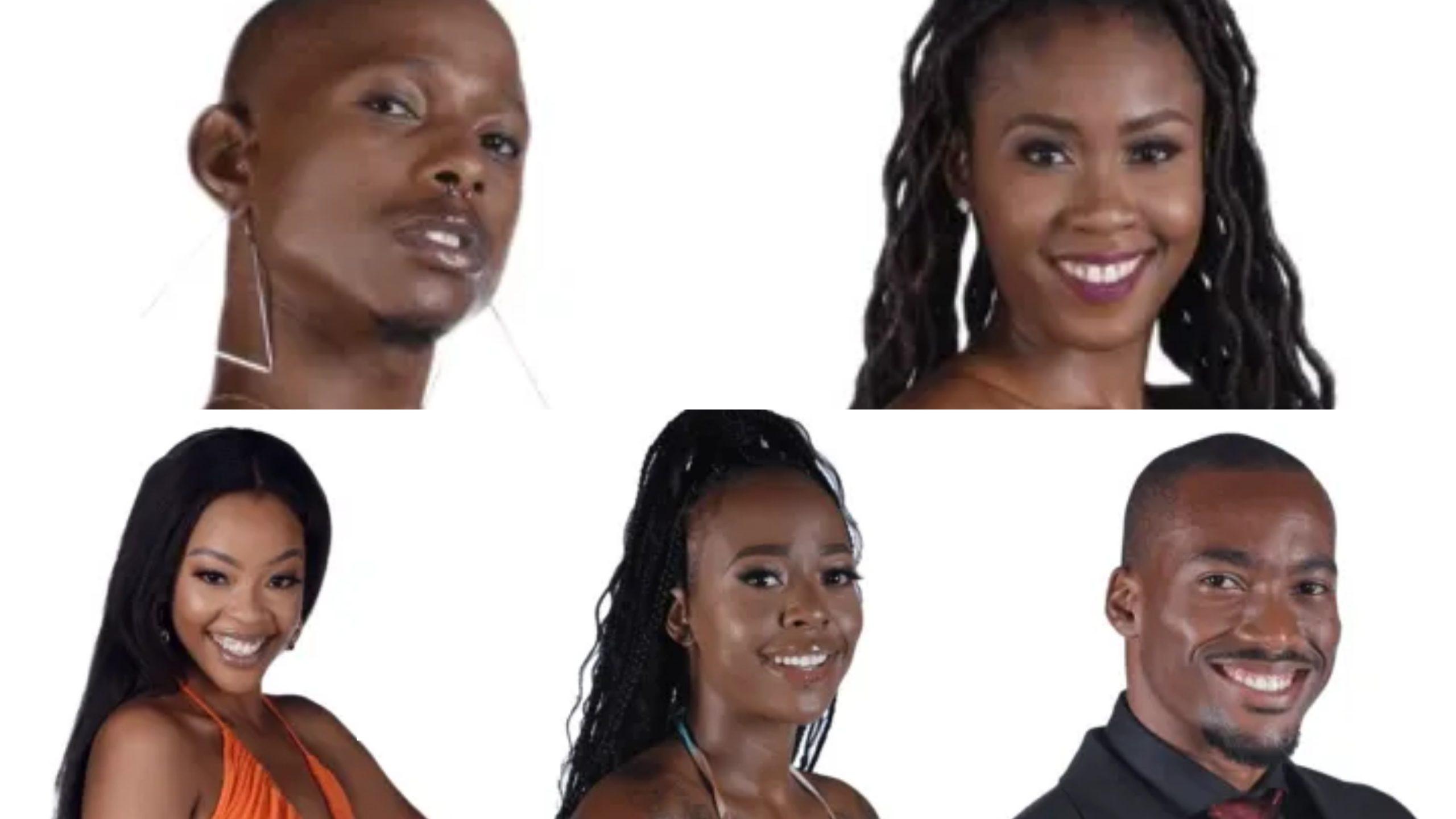 Gash1
Mphowabadimo
Sis Tamara
Terry
Thato
BBMzansi 2022 Week 9 Vote Poll Result
This is how our fans of BBMzansi voted to save their favourite housemate from possible eviction.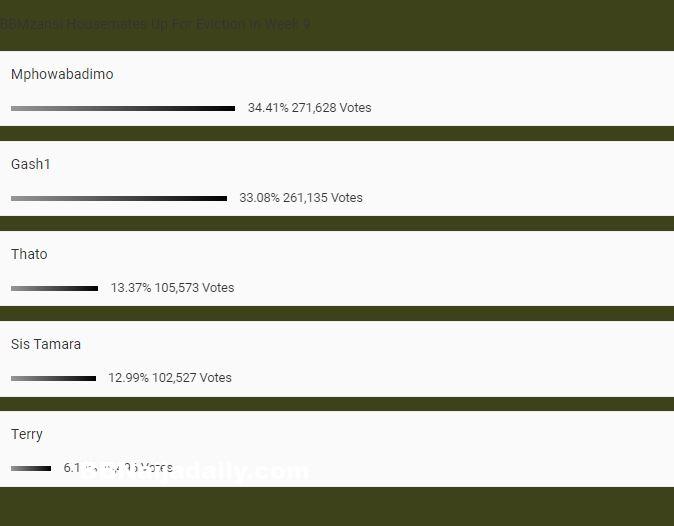 Our Prediction this week
With one eviction show remaining, there will likely be two evictions this week. Terry is the favourite housemate that will likely be evicted from the BBMsansi house this week. One housemate between Thato and Sis Tamara will likely be evicted if Biggie chose to evict 2 housemates this week.
BBMzansi 2022 Vote Result
The result of how viewers voted for their favourite housemate is out. As we correctly predicted, Terry is the 13th housemate to be evicted from the Big Brother house. Big Brother decided to evict a second and third housemate leading to the eviction of Sis Tamara and Thato.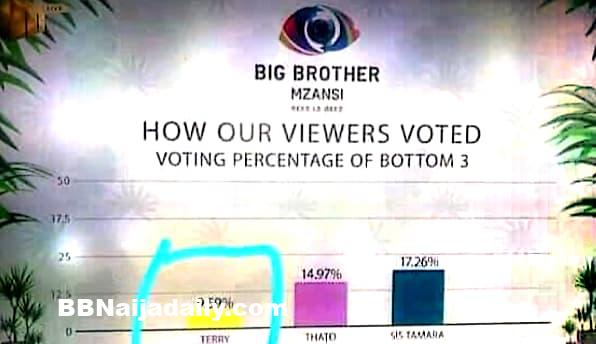 Terry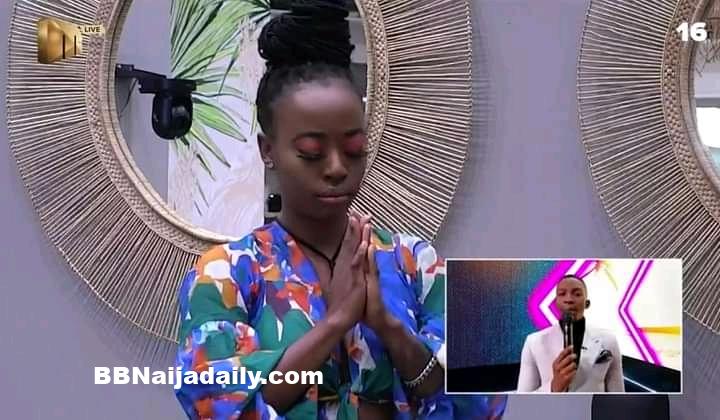 Sis Tamara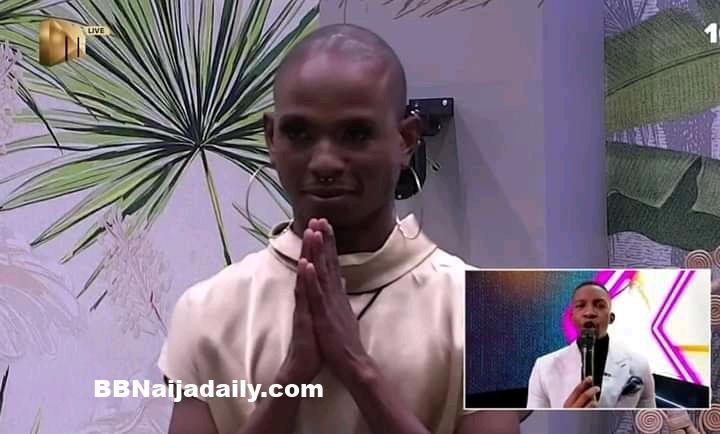 Thato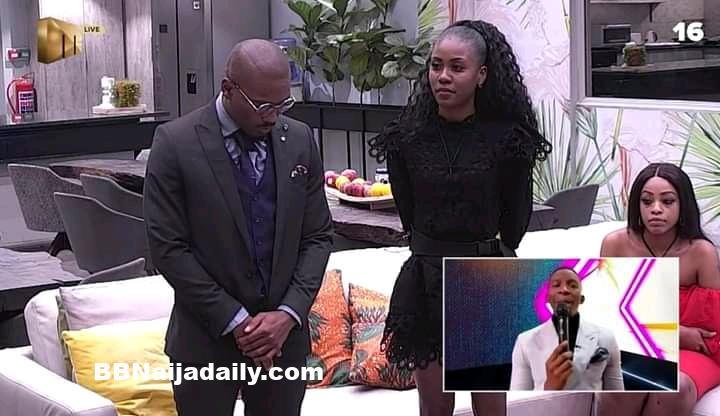 Before the show even started, we knew it was going to be a dramatic one. As the last Live Eviction Show before Finale Week, it was crunch time for the Housemates. There were five Nominees, and only two spots, so there was a tight bottleneck to get through. The first Housemate to get blocked by that bottleneck was Terry.
During her exit interview with Lawrence, Terry said that she may have lost her sanity a bit while in the House, but that she was "back, now!" Which makes us very happy. When shown a reel of her time in the House, all she had to say was, "I love it!" Always one to wear her heart on her sleeve, Terry was never likely to get into self-recrimination. She made an impact on the show, that's for sure.
The second Housemate to hear about their Eviction was Sis Tamara. Sis Tamara was the first person to enter the House and was quickly established as strong personality and a leading contender for the R2 million. When speaking to Lawrence, Sis Tamara said that she is more accepting of herself, and that she now also accepts the character of Ukho as her own. Numerous Housemates have expressed how they thought that Sis Tamara was an outstanding personality in the House, and we must agree.
The third Evictee was Thato, who went head-to-head against Gash1 to hear her fate. It was something of a sad moment – their relationship has been blossoming of late, and the fact that they are now split is obviously unpleasant for them both. She told Lawrence that she is hopelessly in love and will miss Gash1. She won't have to miss him for long, though – one week from today, we will discover who the winner of the grand prize is. We can't wait!
BBMzansi 2022 Top 5 Housemates
With this eviction, the Top 5 Big Brother Mzansi Season 3 housemates has been revealed. Here are the Top 5 housemates that made it to the grand finale next week Sunday.
Themba
Libo
Mpho
Gash1
Tulz
Please leave a comment and interact with other viewers below