The Big Brother Naija head of House a game for week 3 was intensely contested which ended up in the favour of level 1 housemates. Adekunle's victory in the Head of House game this week earned all level 1 housemates' immunity from possible eviction.
By the victory in the head of house game, Adekunle has now earned exclusive right to nominate 5 housemates of choice from Level 2 house for possible eviction from the Big Brother Naija house during tye Sunday live eviction show for week 3.
BBNaija 2022 Week 3 Nomination – Housemates up for Eviction
Big Brother invited the current Head of House Adekunle into the diary room to make his nomination for possible eviction; Here are his five nominated housemates.
Groovy
Phyna
Bryann
Illabaye
Khalid
Housemates up for Eviction
Here are the Five (5) housemates up for eviction the week;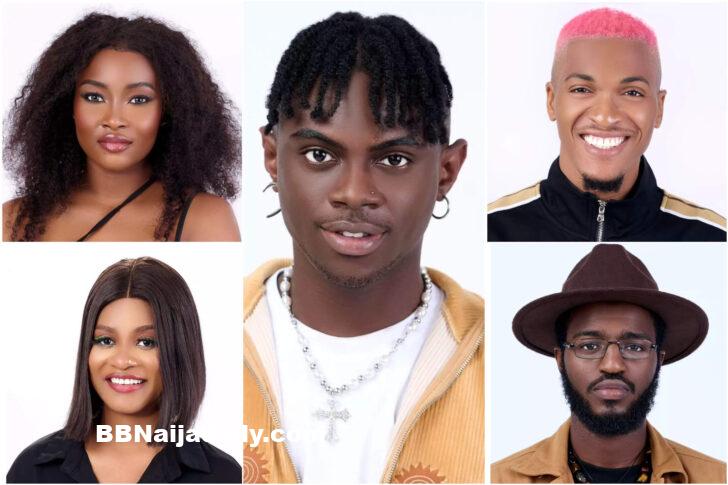 Bryann
Groovy
Illabaye
Khalid
Phyna
How to Vote
You can vote for your favourite housemate up for eviction this week.
BBNaija Season 7 poll, BBN Season 7 Voting Poll, voting Poll 2022, BBNaija 2022 week 3 online poll, BBNaija Week 3 poll 2022, BBNaija 2022 Voting Poll Result, BBNaija week 2 voting poll, BBNaija 2022 online Poll Week 3, BBNaija voting polls season 7, Today Big Brother Naija poll 2022, Today's poll in Big Brother Naija 2022, Big Brother Naija 2022 online poll for Week 3, This week's voting poll for Big Brother Naija, BBNaija online poll 2022 for Housemates week 3, How to vote in Big Brother Naija poll season 7, How to vote in the Big Brother Naija 2022 poll,