As the Big Brother Naija (BBNaija) audition online registration starts, I have decided to write on the next step of the audition application process. If you are a DSTV and GOTV user, you can apply to audition for the Big Brother Naija season 6 edition. The registration for DSTV and GOTV user commenced on 24th March, 2021 and ended on March 31st, 2021. While the general audition form ended on May 15th, 2021.
If you are a DSTV or GOTV user, all you need to do is to forward your smart card number or IUC to the email [email protected]. After sending the smart card number or IUC to the email above, a website link will be sent to your email where you will be required to complete your application. If you have completed your online registration and have successfully uploaded a 2-minutes video telling Big Brother what you can offer in the show, then you are few steps away from becoming Big Brother Naija season 6 housemate.
Before I continue, note that the Big Brother Naija audition is totally free and you do not need to pay anybody to book a space for you. You will be selected based on the information you provided during the online registration process. Beware of fraudsters as they are only there to take your hard-earned money without providing the services they promise to offer.
For those of you who have complete the online registration, ensure you save your system ID as you will be needing it later. The system ID will be forwarded to your email at the completion of the online registration.
Big Brother will be sending email notification to successful applicants for the second phase of the audition process. The second phase of the audition will require all successfully selected applicants to avail themselves for an online audition on zoom app. This process is quite thesame for last season's audition which phase two was held online because of the pandemic.
Sample of the email notifications from Big Brother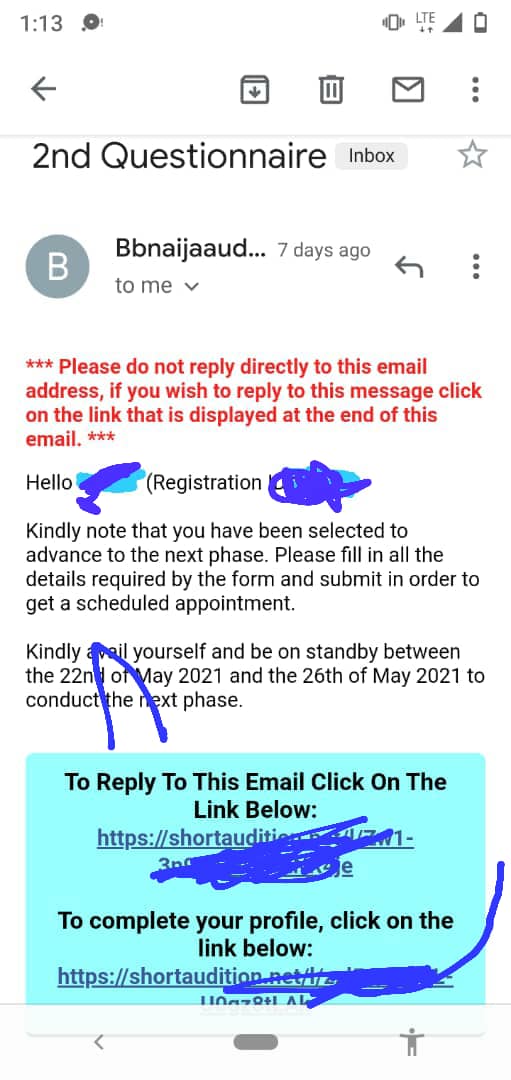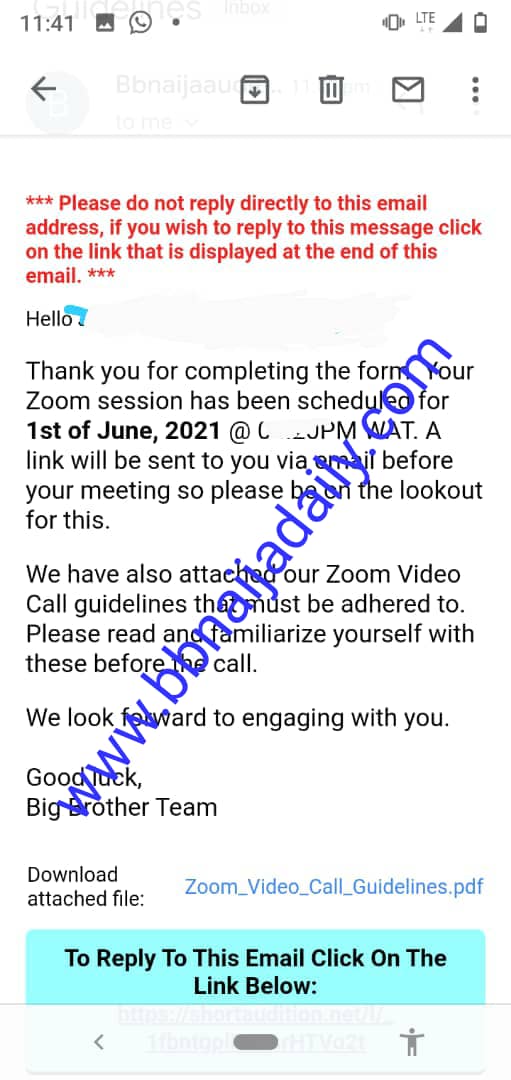 In phase three of the audition process, only Lagos state will be used for the physical audition. Accommodation and feeding will be provided by Big Brother during the course of the physical audition. However, applicants are required to come with their clothes, makeups and basic needs for the physical audition process.
Applicants who did not receive e-mail notification will not be allowed into the audition venue. If you did not receive any email notification, it means your application was not successful and you can try again in subsequent seasons.
Frequently asked Questions and Answers
Will there be BBNaija season 6 this year?
Yes. BBNaija season 6 will premiere July 2021. More information about this will be communicated in the coming weeks.
Given fears around COVID-19, how will auditions be managed considering social distancing restrictions?
Auditions for this season's Big Brother Naija will hold completely online, and there will be no need or provision for physical gatherings.
When will the auditions start and how long will they be for?
Auditions for BBNaija season 6 will open on Wednesday, March 24, 2021.
Who can audition for BBNaija season 6?
Interested male and female participants who are of Nigerian nationality with a valid Nigerian passport and must be 21 years of age by June 1, 2020.
How can interested participants audition?
Potential contestants are expected to record a two-minute video of themselves stating why they should be picked to be a Housemate in season 6 of Big Brother Naija. Following this, they are to log on to www.africamagic.tv/BBAudition to fill out the online registration form and upload their videos.
Will participants need to pay for the auditions?
No. The online audition is free and open. Individual data charges will however apply.
Will the final housemates be selected after the online auditions?
No. Entries received will be screened for eligibility and suitability following which successful applications will be further screened. The final shortlist will be selected with one-on-one screenings where our standard psych evaluations and interviews will be organized in a controlled and sanitized environment where social distancing will be observed.
With auditions moving online and an absence of physical verification, how do you ensure the quality of housemates matches or even surpasses that of previous seasons?
The same rules apply for any type of Big Brother audition, and our selectors will apply the same experience from the previous seasons. BBNaija will always follow the same guidelines in terms of selecting housemates based on character and personality amongst other things.
Why is MultiChoice staging the 6th season of BBNaija considering the COVID-19 pandemic?
Many Nigerians are at home due to the restrictions necessitated by the COVID-19 pandemic. Our decision to stage the fifth edition of BBNaija is borne out of the need to provide compelling content that would get them entertained and at the same time, help achieve Government's objective of social distancing to help curb the spread of the virus.
BBNaija ranks as the most viewed non-sporting event on African television and regarded as one of Nigeria's biggest entertainment exports outside of Nollywood.
BBNaija are optimsistic that this show will fulfil this need even as we guarantee that global best practices, precautions and preventative measures will be followed throughout the season.
What measures have been put in place to ensure that this season adheres to the guidelines of the NCDC?
Managing the concerns and safety of the housemates and production crew is vital. The Big Brother format follows end-to-end production best practices and with the prevailing COVID-19, have developed a COVID-19 preparedness action plan, and will implement the necessary safety measures, including but not limited to:
All shortlisted Housemates will be tested and placed in quarantine for 14 days, and only when the all-clear has been given will they be permitted to enter the house.
No guests will be allowed to enter the BBNaija house or have physical contact with housemates and the number of "ninjas" will also be reduced.
All audiences for live shows and evictions have been cancelled, and the presenter will host the Sunday Live Eviction Shows in an empty studio, crossing live into the Big Brother House.
Establish a committee to coordinate all COVID-19 matters.
A dedicated crewmember assigned to each workspace/department will be responsible for ensuring COVID compliance of the production
Psychologists and Medical Dr. on standby to support housemates and crew
Solicit partnership with authorities | Government bodies to drive messaging via the BBN platform
Compulsory daily temperature checks for all production crew and guests to the House.
Provide handwashing facilities and or alcohol-based sanitizers at all entry points for use by the production crew.
Make arrangement for the transportation of production crew to the House to minimise the risk of infection.
Encourage non-essential members of the production crew to work remotely, maintain only essential skeletal crew on set and ensure that production crew members who physically work in the House run shifts.
Ensure that the physical distancing guideline of 2 metres is maintained by the production crew working in the House.
Regular cleaning and disinfection of the House and production facilities especially commonly used surfaces/objects.
All staff entering house with supplies must wear masks, gloves, and shoe covers
Strict observance of the daily curfew imposed by the government.