As the Big Brother Naija (BBNaija) audition online registration starts, I have decided to write on the next step of the audition application process. If you are a DSTV and GOTV user, you can apply to audition for the Big Brother Naija season 7 edition. The registration commenced on 15th May, 2022 and ended on May 30th, 2022.
If you have completed your online registration and have successfully uploaded a 2-minutes video telling Big Brother what you can offer in the show, then you are few steps away from becoming Big Brother Naija season 7 housemate.
Before I continue, note that the Big Brother Naija audition is totally free and you do not need to pay anybody to book a space for you. You will be selected based on the information you provided during the online registration process. Beware of fraudsters as they are only there to take your hard-earned money without providing the services they promise to offer.
For those of you who have complete the online registration, ensure you save your system ID as you will be needing it later. The system ID will be forwarded to your email at the completion of the online registration.
Big Brother will be sending email notification to successful applicants for the second phase of the audition process. The second phase of the audition will require all successfully selected applicants to avail themselves for an online audition on zoom app. This process is quite thesame for last season's audition which phase two was held online because of the pandemic.
Sample of the email notifications from Big Brother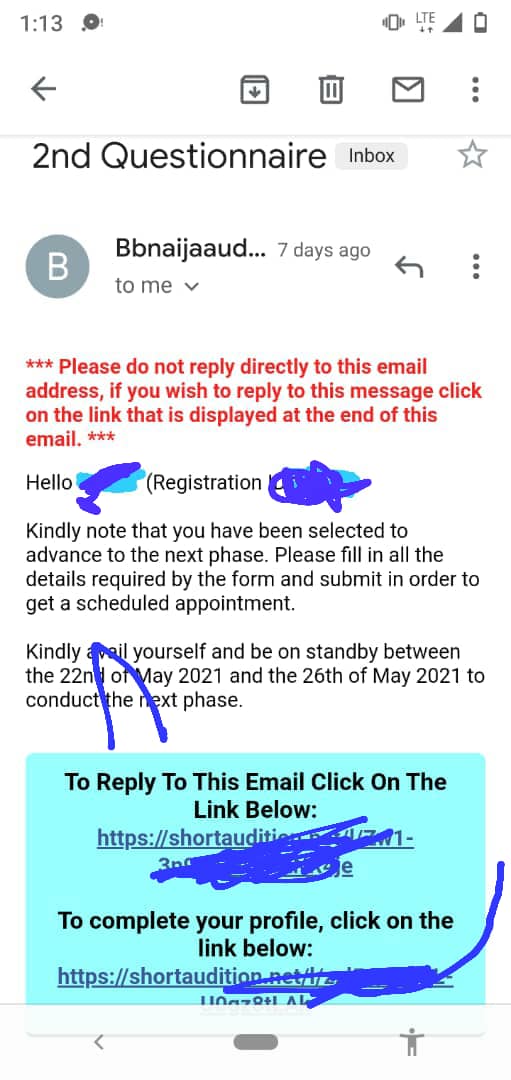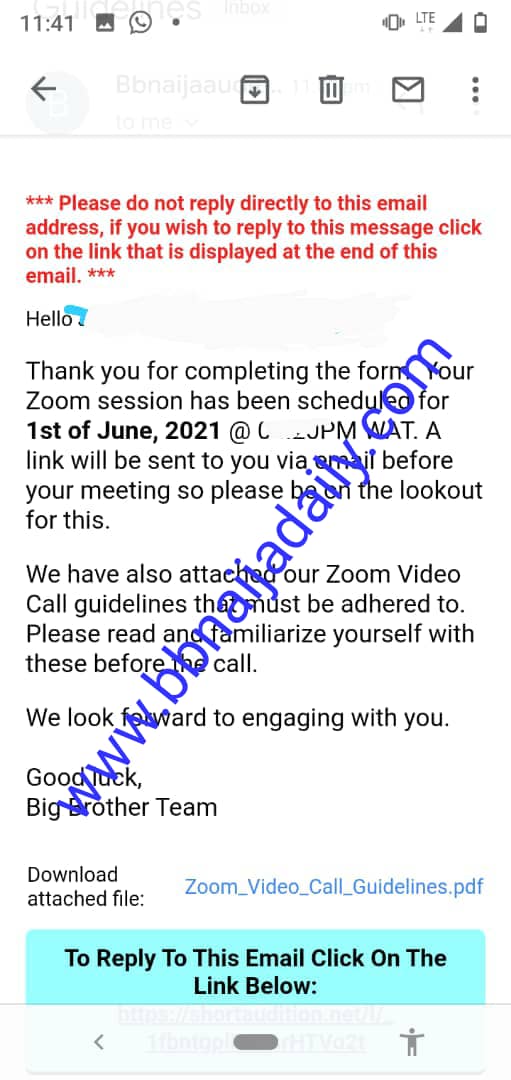 In phase three of the audition process, only Lagos state will be used for the physical audition. Accommodation and feeding will be provided by Big Brother during the course of the physical audition. However, applicants are required to come with their clothes, makeups and basic needs for the physical audition process.
Applicants who did not receive e-mail notification will not be allowed into the audition venue. If you did not receive any email notification, it means your application was not successful and you can try again in subsequent seasons.
Frequently asked Questions and Answers
Will there be BBNaija season 7 this year?
Yes. BBNaija season 7 will premiere July 2022. More information about this will be communicated in the coming weeks.
Given fears around COVID-19, how will auditions be managed considering social distancing restrictions?
Auditions for this season's Big Brother Naija will hold completely online, and there will be no need or provision for physical gatherings.
When will the auditions start and how long will they be for?
Auditions for BBNaija season 7 will open on May 15, 2022.
Who can audition for BBNaija season 7?
Interested male and female participants who are of Nigerian nationality with a valid Nigerian passport and must be 21 years of age by June 1, 2022.
How can interested participants audition?
Potential contestants are expected to record a two-minute video of themselves stating why they should be picked to be a Housemate in season 7 of Big Brother Naija. Following this, they are to log on to www.africamagic.tv/BBAudition to fill out the online registration form and upload their videos.
Will participants need to pay for the auditions?
No. The online audition is free and open. Individual data charges will however apply.
Will the final housemates be selected after the online auditions?
No. Entries received will be screened for eligibility and suitability following which successful applications will be further screened. The final shortlist will be selected with one-on-one screenings where our standard psych evaluations and interviews will be organized in a controlled and sanitized environment where social distancing will be observed.
With auditions moving online and an absence of physical verification, how do you ensure the quality of housemates matches or even surpasses that of previous seasons?
The same rules apply for any type of Big Brother audition, and our selectors will apply the same experience from the previous seasons. BBNaija will always follow the same guidelines in terms of selecting housemates based on character and personality amongst other things.
BBNaija ranks as the most viewed non-sporting event on African television and regarded as one of Nigeria's biggest entertainment exports outside of Nollywood.
BBNaija are optimistic that this show will fulfil this need even as we guarantee that global best practices, precautions and preventative measures will be followed throughout the season.